BIONICLE-themed LEGO Ideas projects reached 10k twice. First time, it was a beautiful system diorama made by Sokoda, which was later rejected by LEGO. Second was GSR which is still waiting for the end of review stage. But not so long ago, a project which didn't reached 10k yet, received something what others didn't- Staff Pick status, what proves that it was noticed by someone from Ideas team.
Maybe it's naive, but I believe that GSR will be rejected because it's too complex and the hero of this post won't. We have nothing to loose, so I'm here to ask you for support for the Toa Head Statue, which has only 2 months left for getting missing 1/3 of the votes needed to pass the current stage.
I know that it is possible, because in last 7 days, it earned already 1k more, so getting another 3,5k shouldn't be a big problem.
Maybe most of BIONICLE fans won't be willing to support a system set, but I'm gonna give it a shot anyway

Link:
LEGO IDEAS - Bionicle: Toa Head Statue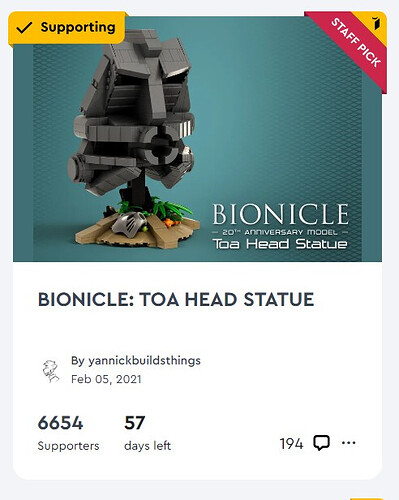 /Taohe Netrus