I am back with another review, this time we have Jetbug, set number 2193, which was released in 2011 as part of the Hero Factory Ordeal of Fire line, and originally retailed for 13$.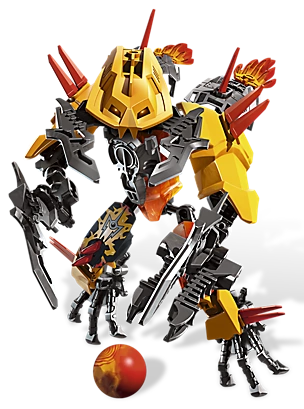 Here are some pictures of him from different angles.
Let's start with probably the most interesting par of him: His head:

As you can see, on one side there is Jetbug's face, and on the other, there is Nitro Blast's face

This is a feature that I always found interesting about the Ordeal of Fire: All 4 if them have a double head.
His main (and only function) is his blaster, which is just the same as the 2009 Thornax launcher, which is activated by squeezing both of the sides

Now looking at Jetbug's design, I have to say, he looks very cool. Probably my favourite thing about him is his Jet-Pack in his back
Oh man, how much I love those things.
Other then this, he is pretty much a standard Hero Factory build, which will will see throughout the line.
Pros:
Cool new pieces and recolors.
Cool design
HIS JETPACK IS AWESOME. (And from here probably his name comes)
Cons: Can't really think of any, to be honest.
Overall, I love this set. He is cool, and has a tone of cool recolors and new parts, that will never be used again after this wave. Also his price is pretty fair for what you get. For my final score, I will give this set a 10/10.
EDIT: Sorry if some parts are missing or are in the wrong color, this is the way I got him. But I hope you got the general idea of the set.