So, I wanted to make my own member of the Frieza Clan from Dragonball Z, so I recolored the Berserker as a simple concept. I did trace this and only did this to get an idea of what Elurra could look like. I will work on a different drawing or group of drawings of Elurra that may include more personalized armor (because its Bio-Armor, and Elurra likes to be creative) and a version of him without his Bio-Armor.
Without further or do, here he is: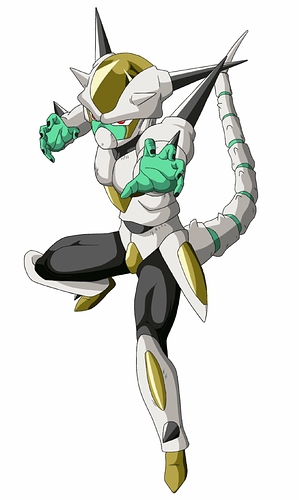 Now, the reason I chose these colors was because first, I like tribal Mesoamerican Culture. Jade was a very big thing with Mayans, so I decided to incorporate that. Things similar to Jade, like Malachite and Turquoise were popular with Ancient Egyptians, so that served as part of the inspiration for Elurra's skin color (other than the fact that it looks like spearmint, abiding by the code of cold for Frieza Race members).
Second, his jewels are meant to resemble Topaz, a gemstone also popular in Ancient Egypt, which is usually associated with the sun god Ra, and is said to prevent evil spirits and nightmares, which I feel would make an interesting trait.
I picked the Berserker reference because the skeletal tail looks awesome as well as the horn placement and face mask. The transformations look awesome as well.
The name Elurra is basically the Basque word for "snow" (also per the code of cold).
Elurra's moves usually, but not all the time, involve a Norwegian word after secretly visiting Earth and learning about its culture (For example, his version of Frieza's Vanishing Blaster is "Forsvinne-Ha!", forsvinne meaning "vanish"). He becomes interested in cultures with a tribal society and based in the snow, and bases his own fighting style on Nordic Berserkers. He wants to experience the trance that these warriors go through, which destroys their allies as well as their enemies, however he is afraid he'd go out of control or worse, become a lot like Frieza, who he hates for giving the race a bad name. He decides to only attempt to "go berserk" as a last resort or if he's away from any allies that might accompany him.
Let me know what you think so I can do better in my own drawing and sorry for all the words in this art topic.