Update:after life hit me like a ton of bricks and then I looked back at this old idea I went back to the grind and got some nice renders, moreover I am eluding the big monster Makuta as I have a better design in mind that I will show later
The Six themselves, lined up an ready to ready to sacrifice a Maki or two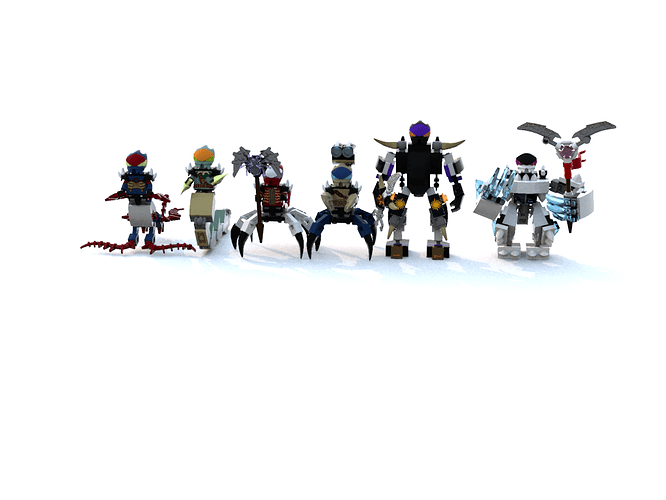 As you can probably tell, there have been some changes to the ideas and designs, Id say both are for the better as while the centaur theme was interesting and I shelved for later weird design the two "muscle" members of the cult have more traditional designs while keeping with the uniform head piece consept
.
So for now, we will start with Norik, went with giving him his off color accents for his later form to help hint at his "purity" and good will. make him start out looking like a nice old grandfather figure, even giving him the MOL robe bits as a badge of office



also I liked the idea of giving him Purple eyes even before he transforms, almost as if that is the color of Makuta's influence and I imagine Turahk with an ashy fear smoke as his power, with a little hook on his abdomen so he can cling to surfaces for added play value
Then we have the Street rat turned assassin, Poor Iruini, Who wanted to strike back against the society that wronged him and allowed those thoughts to poison his mind
I Also like to think that the orange is a tarp or tent fabric he stole from a shop



I also went with the segmented tail for playability, and the ability to give him a shooter. after all he'll be fighting a flier and snakes can only jump so high
Then we get the…Was anything decided for Gaaki yet, because I saw two versions of her One version where she was an isolationist who joined with the hopes of using her power to sway her people and one with Gaaki being an ageing athlete that was banished for cheating and causing a disaster
Honestly. I like the idea of her being an aging athlete more. but either origin works for her



I brick built the squid lower half. for possibility and customizability's sake
I still see Guurahk's original power working if its changed to be more limited, such as her tendrils having a disintegrating touch and making her a nightmare in close range combat and allowing for some dirty tricks.
Then we get to a another one that has been changed. A scavenger turned muscle, I saw the pitch where he was a shrewd swindler but honestly. I prefer the story of him/her joining to save his sick child. mostly for the story options later on.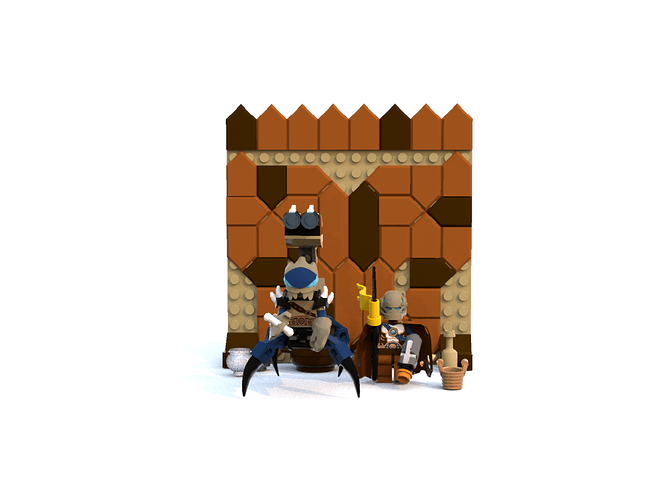 I imagine them being more of a ranger or rouge type despite the very up close and personal nature of the creature he is based on, with a ranged "stinger tail" that shot bolts of energy that blast things apart, then burrowing into the sand to strike from another angle.
and now to the more difficult part. you see, with Vorahk and Kurahk, they needed axelfig bodies, something I dont have in LDD, and I was unsatisfied with the brick built mocups I attempted and many more than just me were dissatisfied with the centaurs. so when in doubt, go big or go home.
First, Boomonga, I made his matoran form small, perhaps even lame. with the idea that he could see the brotherhood as a way to become stronger. something Turahk can exploit as he is transformed into the thug of the team. likely literally taking candy from babies, after all. inside every bully is a scared, angry child looking for attention. might even be the youngest rahkshi for all we know.



I remembered the fork and knife idea that was tossed around and I mashed them together. making this wicked looking scythe/billhook like tool, which is cool and gives the rahkshi more weapon variety
Now; Kualus, the banished Ihuan champion and a rightful heir to the throne as far as he is concerned, his rage being the only thing that keeps his icy black heart from freezing over



Something that only became worse as he transformed. now both fueled by and controlled by rage, it may be hard to even mention anything about Ihu with him around. I also gave him an old Ihuan banner as his staff/ war pick type weapon
in matoran form he has a bone axe and round shield along with a ragged old cloak to keep warm
So, there you have it All six Rahkshi