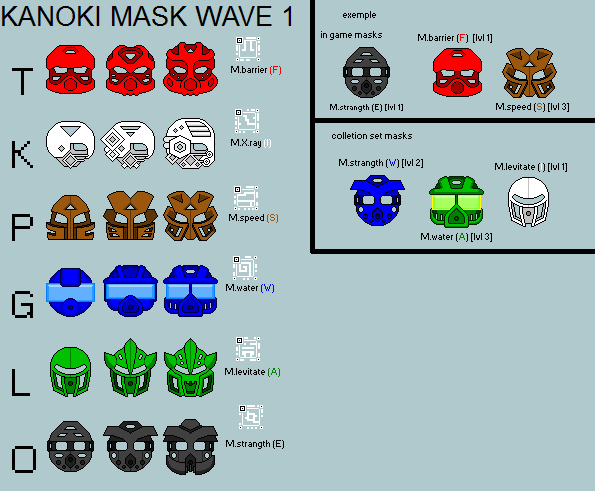 I want suggestion making a "G3" as official lego toy set and hyper light drifter styled RPG video game. those masks are meant to be powerful when leveled higher. I was planning on making powerful WAVE 2 masks (toa Mertu) vakama nokama matau. but those masks cant be all powerful.
in wikia states that power only last long if great or nuva.
those nuva symbols (NUVA SCAN) there for unlocking a new mask to the game. while darkmasks are for the BOTM. nidiki, kreeka, umbarak, ect.
(DONT SCAN THOSE BOSS MASKS)
if you have any good ideas or inspiration for a G3 styled mask let me know.
each element is different color along with traditional neon trans color that corresponds elemental energy, my suggest:
red / red-orange = fire
blue / neon-turquoise = water
green / bright-green = wind
brown / neon-yellow = dust
black / florescent violet = earth
white / florescent blue = ice
orange / red-orange = metal
yellow / bright-green = electric
lime / hot-magenta = plantlife
gray / neon-turquoise = sounds
cyan / florescent-violet = psyche
magenta / yellow-green = gravity
gold / white = ???