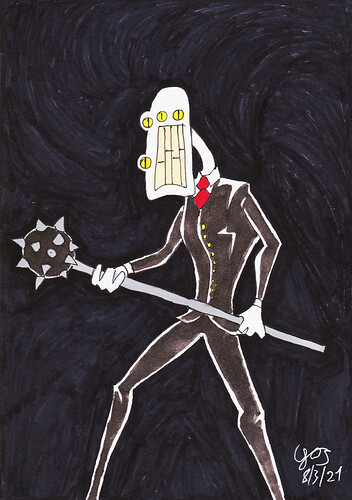 I… I think that I found what true art looks like
pov: You're an under leveled party about to fight the first boss
all the teeth align at different heights I love it
@ghid I wanted to catch even a small amount of ghid-ness. I'm glad I was able to do it
This… is… art…
ok the only actual critique is that the mace is an odd weapon choice. Ghid doesn't need a weapon, he has his fists.
you see… sometimes weebs' skulls are a little tougher than normal and you just need a little extra force. a mace is what you need.
Ah, ok. Gotta get through the skull.
While true, I have seen him use a baseball bat on multiple occasions.
as a weeb, I can say that a mace isn't enough
who says he only has a mace in his weeb extermination arsenal
not even an arsenal is enough
especially not to take out my special concoction of weeb
you fool… none can resist The Mighty One
all I have to do is unplug his wifi modem
Thanks Akaku man I will definitely use this information to blackmail him.
wait @Ghid
i just realized
does this mean…
@Shadowgear6335 must be eliminated?
this revelation disappoints me.
No! I will not allow it! There are many things we agree on, Teeth Boy, but here you have crossed a line! He's too good to be gone so soon! What is he, like twenty-eight? But that's against the point! He is too important! He is one of our community elders! I'm going to be going up to the New England area (technically right under it) soon, so I will personally make sure no harm is done to him by the likes of you! How will I do this? I DON'T KNOW!!!
he's old enough to write a will
that's what matters