Holy cow, this is amazing!
Holy Miltank! This is awe-inspiring!
FANTASTIC, but i have one request, paint it red and upload the shiny one!
How? How?! This is so amazingly perfect in every aspect.
… Well this is it. I'm done. This is freaking Amazing.
If someone manages to make a moc of Zapdos, Articuno or Mewtwo.
Please tell me
That's really good! Also, how do you get that good of picture quality on LDD?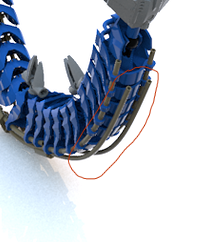 where are those even connected to?
Nothing, I forgot to add the exo-force arms there otherwise they would be holding the tubes together like on the front.
This is a great MOC as usual
This is really cool, but would everything hold together in real life, and would it be poseable?
Hey, Can i use this for a Moc showcase video om myYoutube Channel? thedanishlegodorkshow
Sure that's cool by me

Yes, tomorrow the video will be up, i will send you the link
Great, looking forward to it