Ok, i have mentiond it before so here is the idea for a moc i am planning on creating.
The character is sort of based on Raziel from the Legacy of Kain franchise. He thus have the ability to travel to both the real world (Okoto) and the Shadow Realm. However, he has no memory of his own past, nor does he know what he is. He is not a skull villain, he is not an Okotoan, and he has no memory of the mask makers.
now, here is the main thing i have a problem with, the design.
you all see, i have not a complete idea on what he should look like, i have been thinking of giving him Umarak the Hunter's leg design as a start, but i thought that would just make him to similar to Umarak, so i also though of giving him the leg design of Quake Beast, or just give him the normal Toa leg designs.
torso is also something im puzzeld over, should i give him the toa torso with a gear box, or should i give him the 2016 torso, or give him a torso build similar to Ekimu the Mask Maker, with both the 2016 torso and the gear box.
now the mask, i have been thinking on being a repainted Hunter mask, i even though of a color for it: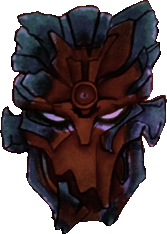 credits for the Hunter mask drawing goes to @Jhanz
now here are some of the things that im going to give the character, im going to give the character a peice of cloth that will cover his mouth, like Raziel:

im also planning on giving him a sword, i think i will also give him the same type of scabbard that Umarak the Hunter uses, but im still puzzeld on the design of the sword.
so… do any of you have any advice? i really want some help with this, but im not going to make it some complex moc, because im planning to show this moc to the Unofficial TTV Bionicle Continuation Topic.
also, do anyone have a good name for this character?