Intro:
The Imperial Dropship is a Storm Trooper battle pack from 2008: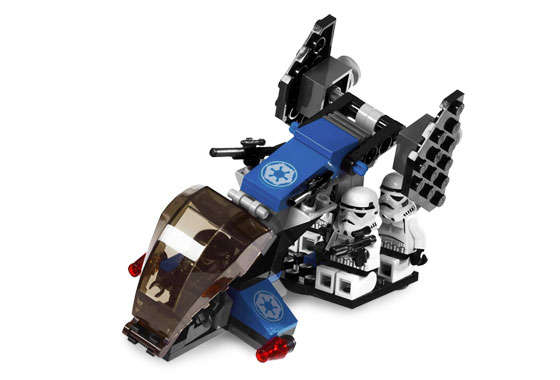 As a kid I loved this set, and I still love the ideas behind the design, so I decided to revamp it.
MOC:


As you can see I had to use a slightly more boring colour scheme of gray.


Lots of grey.


Though I suppose this makes it look a little bit more like something the Empire would actually use.


The cockpit opens up and inside is a singular black chair and a control panel.


As you can see I've lost all my Imperial minifigs, so I'll just be using the stuff I have laying around.


So Kai enlisted into an Imperial academy I guess.


The troop bay releases just like in the set.


You lift up the tail of the ship.


And it's ready to fly away.


The troop bay fits 6 figures, 2 gunners, 2 standing, and 2 sitting. It also holds 1 crate/computer, though that space could be used to hold a 6th figure if you wanted.


I wanted to make the troop bay into a semi-permanent HQ. The basic idea is this is where the Storm trooper squadron would stay until they captured whatever rebel base they were invading. I also like to imagine multiple of these would be dropped of together at the same time.
Outro:
I'm pretty happy with this MOC. Imo I successfully captured the look and feel of the original while also giving it the upgrade it deserved.