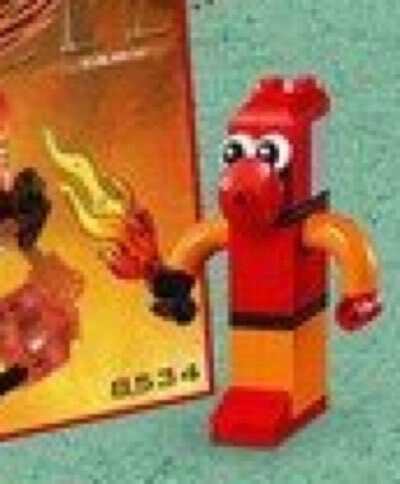 There he is.
And thus, the start of a new theme - a new way of building - a new approach to the Bionicle we all know and love. But unfortunately, this is the only Bionicle character in this set (as far as we know). So how can we continue the theme?
Why, by building our own, of course!
And why keep those builds to yourself - many people have similar ideas for the same character you've made, and the best thing about building with LEGO is sharing your builds with others and inspiring them to create their own!
If you've built a classic-style system Bionicle character, and hosted it on the forums, drop the link in this topic! I'll make a list of designs for each specific character by type and group them together by respective group and year of release - but before we can go gun-ho on that, we need to have some rules.
As per Community Project rules, they must be new creations. Thankfully, Classic Tahu was leaked as of mere days ago, so that shouldn't be an issue (unless one of you is a time traveler).
Builds can be digital, but everything must be legal - no clipping, cut pieces, or otherwise physical impossibilities. Remember that this is a list for ease of replication and mixing/matching designs to the reader's desired specification.
Builds will not be linked unless they follow the design language of Classic Tahu. I'm not trying to restrict anybody from entering, but it has to look like it's not something completely different, like a normal Galidor set or something.
One last thing: Since the purpose of this project is to show people fun new designs to try out, it would be a great benefit to everyone here if your pictures/renders are clear and legible. That way there's less perplexed comments asking how something relatively simple was done.
Have fun, and (re)live the legend!
---
Toa

Classic Tahu
-LEGO set 11021 90 Years of Play

Mata
-Jaton's Tahu Nuva

Mahri
-Senit's Lesovikk
Turaga
Matoran
(more categories will be added when MOCs are posted)