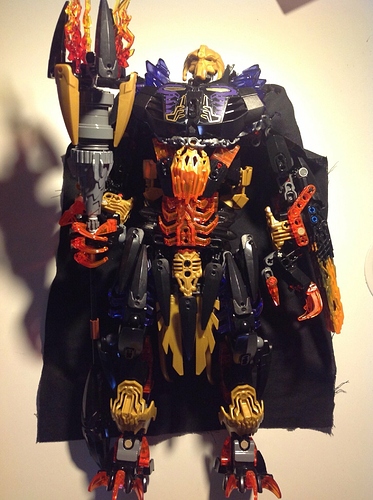 Edited for Double Post - Prpl
Moved Category and Edited title to remove crappy self-promotion, which should be in the post itself-Getter3
Once again, mate.
put that in the post itself, not the title.
As for the MOC itself, @Dragon_fan,
it looks to be an imitation of JtO makuta, with no real unique flare to it.
it just kinda gets washed out by the rest of the JtO Makuta-esque contest entries.
Honestly I have never seen Jto so I wouldn't know
so, you haven't seen the "let's build JtO Makuta" topic, or any other topics that have the makuta design?
have ya been sitting under a rock for the past 2-3 months???
So then how'd you get that staff design?
And the loin cloth design?
either that, or he's lying.
It's also possible he saw that and was like "yo dis is kool" and didn't realise it was JtO.
Then again that's a far stretch.
To OP, why both trans-orange and trans-purple?
Doesn't look good.
1st: rude
2nd: a friend sent me a link to the contest
I just wanted to try to make a spinning staf and that is just the best i was able to do whiteout making it way to big. As fore the cloth i just wanted the evil lord to have a big cape
If the design that sammythecat showed me is the Jto design then no this is the first time i've seen it
---
Edited for triple-post. --John Smith
But it's like literally the EXACT SAME DESIGN except for some more beast claws things.
Well sometimes life leads you down strange paths
i LOVE this moc! i actually made…(ahem) 23 actual entries of my own…yah i know…way to much…anyway. YOURS blows away any of the ones i did!. great job

OMG thank you thats so nice.