Hi, I've recently finished a power reading of the Biological Chronicles (+ a rewatch of the movies) and I felt the urge to build something. These are the results:

I gave Malum the sword that he wealds in the comics before his exile. It's not 100% accurate due to Tahu Nuva's sword being too large to fit inside Mata Nui's shield with only one connector piece.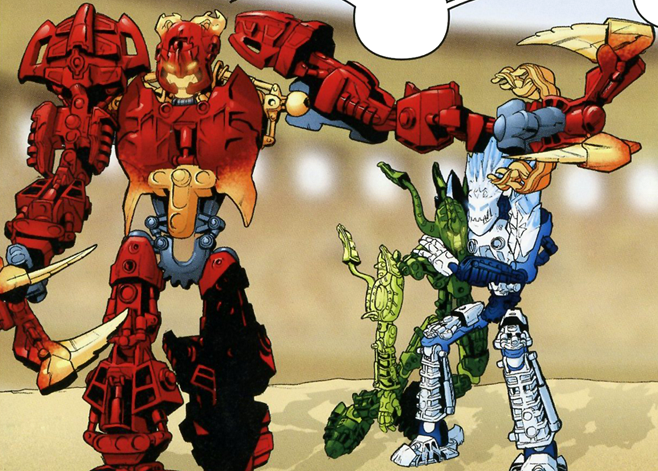 I also tried to add some bulk to Malum's waist like in the comics, sadly
you end up with 2 open axles visible from the rear (you can add 2 more liftarm, but they're going to push against and warp the chestplate)
For Mata Nui I went the movie route and gave him his weapons and I've added some axles, pins and liftarms to fill in the gaps in the chest and arms (I've also substituted all blu and red pins/axles with black ones). I also switched the lifegear with one completely black.
I got a second mask to cut out the mouthplate and I know, cutting pieces:
blasphemy! (but I grew up with Transformers and I'm a big fan of Optimus Primal and Bayverse Prime and both have retractable mouthplates like Mata Nui). It still needs some sanding and I'm still working on my skills as I've recently moved my first steps in the world of model kits.
Obviously Mata Nui can't be complete without his little friend Click. For it I tried to make a mix of the movie and comics appearence, with the limited parts available and I'm quite satisfied with the results.
For everyone that might be interested in building these mods, I hope the photos are clear enough.
EDIT
Here is a Stud.io file for Click:
Click.io - Google Drive