I never expected to see the Garai in g3, but I'm loving it!
One note about it, though: the side wings on the mask seem to delicate. Maybe it should be thicker.
Thanks. Neither have I
The final product would be thicker which I would have done if not for the size of my "pen" that I use on all of them.
I'm not sure if you've read @DarkMaestro's Apotheosis, but in this specific comment there is a design for Helryx.
After this post was made, I suggested that Helryx be given a Rode instead of a two-eyed Akaku (since in this, she is the leader of the Arbiters, which involves a judicial system). Since G1's Rode was the Mask of Truth (allowing the user to see through deception), I thought it would appropriate for Helryx to wear it.
The Garai looks very strange… but I kinda like it.
A mask like that is hard to translate into a more standard head shape, especially since it lacked a lower half in G1.
Almost forgot to mention a major G1 favorite: Matoro.
Using this design by @FuegoDeCera for the Tryna should work well.
Helryx is finished (remodelled after @DarkMaestro 's design and now including the Rode)

her leg could be repaired by kotu and would later be painted to brown to appear more natural (the piece could be the one from Lego monster fighters)
[quote="Bokarda, post:158, topic:38103"]
Almost forgot to mention a major G1 favorite: Matoro.
[/quote]Is he the king or the prince?
Loving the design on this guy, is that supposed to be the monster fighters robotic leg?
Thanks and yes, it is meant to be that leg.
Matoro's currently the king in TTV's canon
Oh yeah this is definitely an improvement on my initial design! Awesome!

Thanks. Glad that you like it
Introducing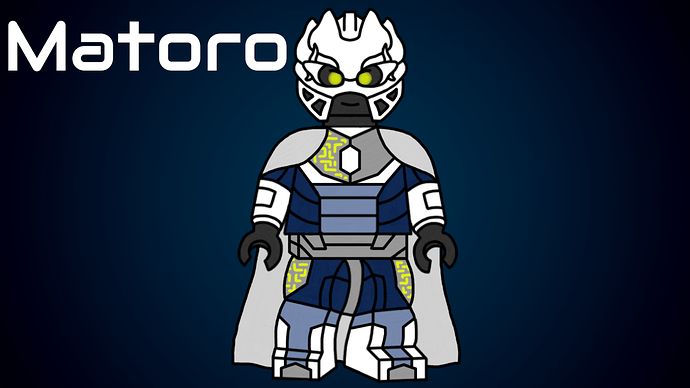 Personally, I like to call this mask kanohi Tryden but i would like to hear if you have different ideas for the name.
Is that a combination of the Iden and the Tryna?
Yes it is but most of it comes from the iden (top middle and jaws are from tryna)
Who should be next?
Just the lower jaws lol, but this is fantastic. I think Matoro is my favorite of the G1 Matoran!
Oh man Ihuans are gettin fancy up in ere lol
Ina?
I gonna have to go with Tryden on this one, although I don't think the masks have official names in G3. Design-wise, this is a Tryden