^ What he said, except I made them minifigs…sorta (Guurahk n Vorahk have Axl bodies)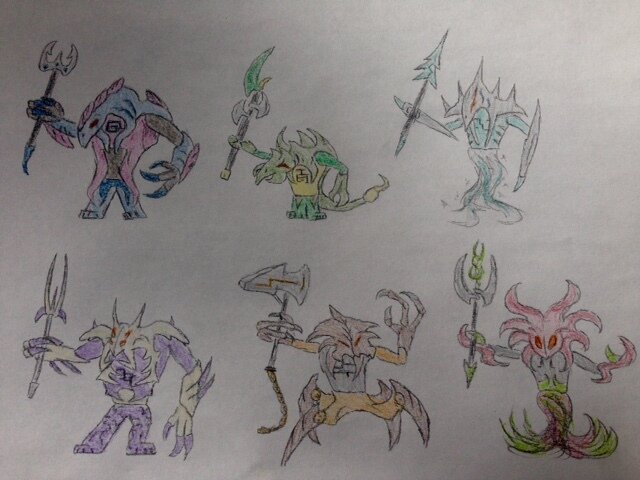 Guurahk: This large Rahkshi is slow and blundering on land, but an unstoppable force underwater. Its staff of disintegration can melt down even the toughest of metals
Lerahk: Don't let this pest's short stature fool you. He is extremely sneaky and quick, leaving trails of toxic gas wherever he goes with the help of his staff of poison.
kurahk: An unmoving ice statue one moment, a fearsome fighter another, this unpredictable Rahkshi wields the staff of anger. He does not enjoy the other Rahkshi's company.
Vorahk: This bone-encased brute doesn't wield the fork staff of hunger for no reason. His insatiable appetite for everything that moves makes him the most relentless Rahkshi
Panrahk: This creepy crawly simply loves the sound of destruction. With his mighty hammer of fragmentation, he will wipe out entire villages just for the fun of it.
Turahk: A master of ambush, this Rahkshi travels above a thick misty smoke, spreading fear to those around him - even other Rahkshi! If that isn't enough to scare his opponents, he spreads out his frill to intimidate even further