Hi all! Just an odd mix of stuff for this one, including some instructions for an elemental creature head with a working lower jaw!
---
G2 Matoro

Made this one with leftover parts from
Rire the Huntress
.
A rehash of
Matoro
's various matoran forms, with a club instead of a pick or
kohlii stick
and glowy
lightstones
in place of his little red flags.
---
Spiked Crossbow

This one's been hanging around for a while. It was originally meant for a
Daily Hero
- a goblin ranged assassin with earth powers, which I just couldn't get to work. I rerolled and ended up with
Throg
, but the crossbow was too cool to scrap.
---
The Vessel

Not sure what was going on with this one. Kinda inspired by old fashioned science lab equipment, mostly just me playing around with interesting pieces.
---
2016 Creature Head with Jaw

After seeing this animation and seeing this done with blu-tak, I got to thinking there must be a purist way to achieve the same effect - and there is! Kinda.
---
WIP Raximoras Parts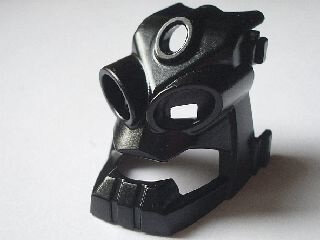 A couple of designs which didn't make their way into the final MOC, but warranted being shown anyways. That head design fits with
Reidak
's canister topper.