Drawn with copic markers and micron pens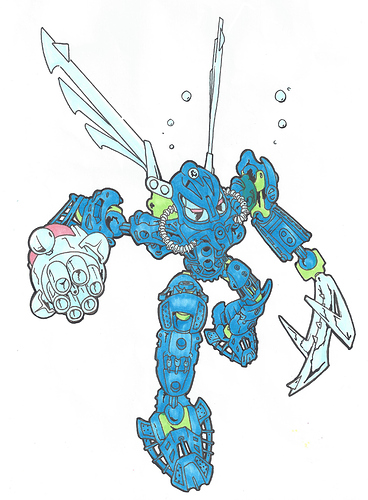 Being an artist herself, my Bionicle girlfriend got me to try using copic markers. Thanks to her, I have another expensive thing to regularly buy for my hobbies. Regardless, I've come to love copics as they're very rewarding and satisfying to color with- much more so than digital. I hope to inspire you to try using copics and microns as well.
When it comes to Bionicle, there are a lot of different styles for illustrating its characters. This time around, I initially tried to emulate the style we saw in 2008-10's comics, but there's so much detail in the parts it's hard to capture them all even on a full page. One day I'd like to write and illustrate a full 22-ish page Bionicle comic; you have to start somewhere! Practice makes perfect, as they say.
C&C is appreciated but I want burger emojis more.