Hello Everyone!
I'm sure by now, most people have seen the images of the 2017 Nexo Knight sets and appreciate the new parts and minifigures.
Several new character designs can be seen and the new color scheme is awesome, but I for one believe that new 'designs' are all that are present.
Allow me to explain.
Almost all the Bad Guy minifigures can be compared to one that is similar in the first two wave of Nexo Knights.
Obviously the good guys and gals are all the same, Jestro is more or less himself, and the Book of Monsters is now a cloud.
But here is where things get interesting:

There is really no solid way to back these guys up, other than the fact that Lego needed some random soldier minifigures, and the new ones appear in multiple sets.
Pretty self explanatory. One round thing that bounces, and one other thing that has arms. (there is at least one other variant of the scurrier- the black version, and one other variant of the square guy- the rectangle guy)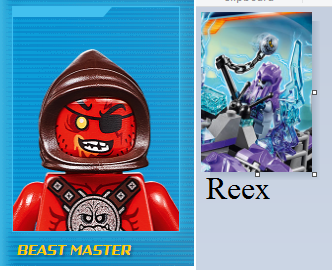 My evidence here is that both throw/have globlins.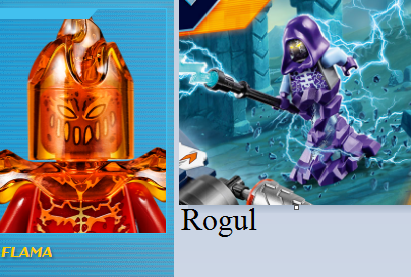 Both of these guys have a unique piece in place of legs. Flames for Flama, and rock-tornado-like-thing for Rogul.
The pictures say it all here.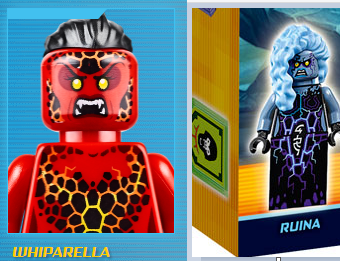 This one is a bit of a stretch, but I'm basing this similarity on the fact that both share similar mouth shaped prints and have a sort of similar rock pattern (at least in the general shape) for the torso prints.
Both of these guys have metal gloves.
The only characters whom I could not find a similarity for were General Magmar, the bookkeeper, and Lavaria, three characters. The 2017 missing 'people' are these three faces!

So yeah, those are my thoughts.
---
On a completely unrelated note, @Mesonak and @Jon stated that the waist piece for the new Battle Suits are new pieces (Brickfeed podcast #27 at the 27:40 minute mark). I'm going to prove them wrong.

As one may see from Lance's Mech the waist piece has a third balljoint.
The same 3 ball-jointed piece can be seen on sets such as 76059 Spider-Man: Doc Ock's Tentacle Trap
So yeah, sorry everyone. It's not a new piece.
---
Overall, what do you all think of my theory? Would you say I matched them up fairly decently?
Feedback is highly appreciated!
Thank you in advance!