Hello everyone, today I present to you my fourth MOC/MOV to you, who that might be? Of course, it is Toa-Niretta's self MOC/character, Niretta!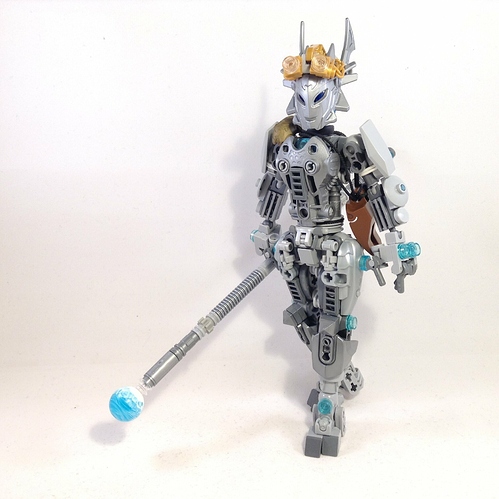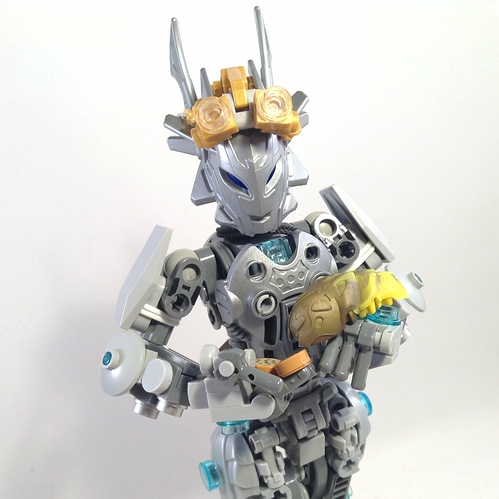 More pics: https://www.flickr.com/photos/114946327@N08/albums/72157679558985430
Toa-Niretta's DeviantArt profile: http://toa-niretta.deviantart.com
So, about this MOV, this is basically "steampunk" styled Niretta, which she has those gold goggles, leather handbag and a small leather pouch (The steampunk inspiration came from "Steampunk Netta" art from her). It mainly balances her monotone colorscheme. Also that pet on her is Razarax (or best known as Squishy), which is totally not-Kraata, he is other kind of reptilian species in Bionicle universe (Not my idea).
Niretta also carries a sword, primarily a sword. However I decided to give her staff type weapon, which is called "Hexa-Element Staff". But of course, that element sphere what she possess now is ice element, the sphere and end hilt are interchangeable though.
Talking about her element(s), she possess six primary elements, fire, ice, water, air, stone and earth. Niretta can only possess one element at the time, but again, not my idea.
Okay, there are few issues about this MOV. Her hip joint tends to pop off if I try to pose her legs forward or backward, and her knees almost bends 90 degrees. And then her round backpack, it stays on her back well, but messing her around tends to move her backpack a bit.
So, that was about her, a medium-small MOC, which was fun to build for her, definetily fun to add steampunk vibe for Niretta. Comments and criticisms are always welcome and appreciated, and this has been it. MrBT signs out.