Err something went wrong…
PEKATTON EX @PekekoaOfJungle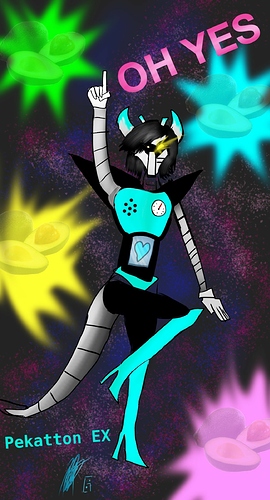 He is too fab for these boards
It looks like a strange sort of Vocaloid…
Pretty good drawing though!
…
But…it's mettaton…plus pek
Pekatton> vocaloids
Not sure if that's cool or an abomination.
Cool drawing though.
the head looks pretty good, but something about how the tail is sized/attached feels off, and the pose seems a tad awkward. mostly in the arms and hands.
I love the avocados in the background, they really make this drawing.
I just realized that they're avocados in the background.



[/quote]
@GIF.Man.Ben You used my GIFs… I'm so happy…
And yes, avocados in a picture like this are moderately great. Even though I'm allergic to them… Sneezes while looking at the picture
DID YOU. JUST FLIP. MY SWITCH.
In all seriousness, this is fabulous.
confirmed undertale trend i see
Looks pretty cool, but like, where are the elbows?
The arms are pretty much tubes so…
I have no idea what this is, yet I still like it.
Have 80's phrases taken over the boards? radical man
No. But in all seriousness leg me review this…

I love it!
My only critique would be that the fingers look a liiiittle off. Maybe it's the lack of knuckles on the right one, but it looks sorta flat.
Other than that, I
calf
to say, this drawing is straight *thigh-*re. But you seem to have a
tendon
-cy to do that.