Hello everyone on the Boards!
I know I just did some pixel art stuff with Connie, but I just can't help myself.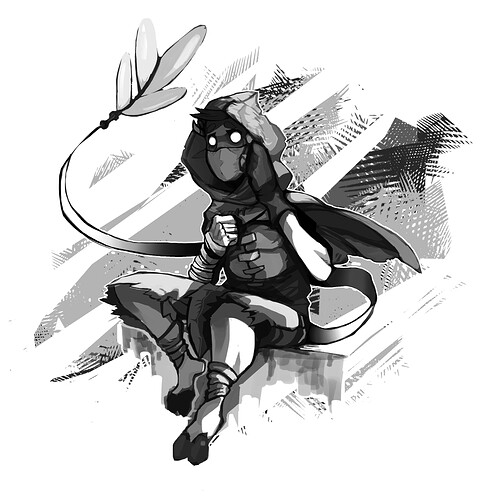 One of the things I've impressed myself a lot with in the past year and a half is just how far I've come in not just my digital skills, but my art skills on the whole. An illustration like this was totally out of my reach back then, but I've been continuously surprised that the moment I got serious about my art is the moment I started improving. There's always more to go.
I feel the exact same way with Connie, and I'm also intrigued by how both his personal story and design have sort of mirrored my own growth.
Once upon a time, Connie was a shy, frightful, and weak child with a dark power he neither controlled nor really knew existed. He met the adventurers that would later become his best friends by hiding invisible in their camp and listening to them sing and speak their tales. He stuttered incessantly when he spoke, which wasn't often, and couldn't wield even a knife if his life depended on it. He was a kid with high aspirations, but little to no ability or agency in his own life.
This old design reflects that original Connie, and I had a desire to go back and update that design with my current experiences with him. He's disheveled, his clothes are borrowed from his human guardian, and he hides his horns and teeth in fear.
It amazes me that Connie grew from there to be so extroverted. He now has some control over his enchanting powers, even if he doesn't fully understand them yet. He's talkative, his stutter has diminished considerably, he constantly wants to talk to new people and see new places, and he can hold his own in a fight with his short sword and dagger. Most important of all is that his outlook on life brightened substantially; Connie always tries to make the best of any situation.
And of course, his recent designs reflect that. He's more put together, and he no longer covers his face and horns. He's becoming the adventurer he always wanted to be.
Anyways, it's just fascinating to me how a lot of artists grow with their characters. It's even more interesting when you happen to roleplay that character every week and experience their personal growth incrementally.
If you want to see for yourself, these are the original designs for Connie, as well as what level my art was at when I created him:
https://www.instagram.com/p/By3XQOWHoOC/
https://www.instagram.com/p/BxYXz8Mntmr/ (This one in particular I despise, and I consider this new illustration retribution).
If you read what turned out to basically be a blog post, have your cookie:
As always,
Comment and Discuss!