Well seeing that it's Halloween, I wanted to post a Moc that seem to scare people, and what more scary to see in the game of Overwatch then someone playing Reaper the edge lord him self
To let you know, I love the game Overwatch and playing Reaper as well

For a long time I wanted to base a Moc on game character but I didn't know what. Until I started playing game, and Reaper seem perfect for me
Just the way he looks, by having a skull mask and his colours and that he has two shotguns too.
I do like how the Moc came out, but I am a bit upset that I couldn't get five shotgun shells? or grades? (don't know what they are) on his belt, only three
But I am happy that I was able to find a way to get them on the torso
Plus, his guns do fire, by pushing the area I am showing. Grant it, it is a hair trigger
And if you ask, his cape is of a old ■■■■■ that I cut up
Oh! Before I end this, there something I would like to say.
DIE!
DIE!
DIE!
DIE!
And throw the guns away, like a bad apple
Well that's it for now let me know on what you think and I be back with more, and happy Halloween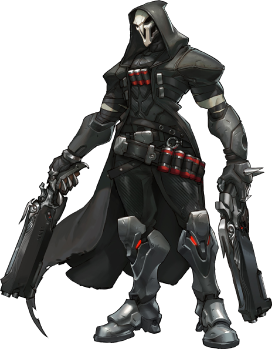 UPDATE
Thank you all for your comments and I have seen a lot of you say that I should use the skull basher/scorpio mask. Now I did say it didn't look right to me, but seeing that you want to see him with that mask, I may as well show it to you all. Hope you enjoy it.