Hello everyone on the Boards!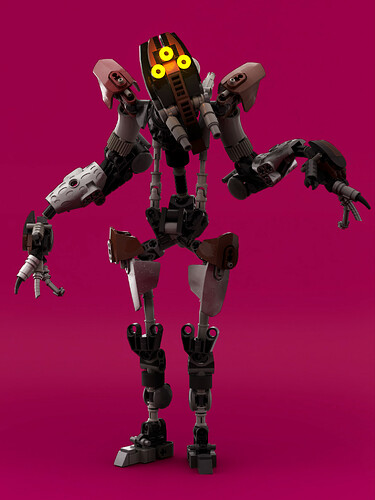 Long have I awaited this moment…
.
.
W̷̢̡̡̨̛̱̞͙̘̲̙̪̤̜̗͍̠͚̗͗̐͑͋̃͂͂̑̇̔̊͒̅̚̕ͅͅe̸̢̡̨̧̬͕̮͓̩̜͇̜̼̘̰͇̥̕ͅ'̷̢̛͕̖̜͕̘̫̫̞̖̠̠͈̗̲͈̀̔̆͌̂̀̽͊́̋̃̚͝͠͠ͅv̴̛̼̲̝̐͋̃̌̄̅͗̆̊̽͝͝ë̶̡̝͈̩̺͖͙̯̺͎̲̲̫̩̥͎̝͎̟́́͗͒͒͑ͅ ̴̻̪͙̗͎̩̞̿̆͊b̷̨̢̡̺̬̳̙̪͖̬̱͓̠̹͔̭̭̍̿̽͌̓̔̈́̊̀́̅̆̽̀́̚͜͜͝ͅẻ̸͍̃̄̓͛̀͆̂̌̋͛͊͌̂̋̈́̓͝͝ḛ̷̢͙̘̯̦̳͉̗͍̱́̈́̏̇͋͒̓̌̀̈́̓̀̏͘͝n̶̢̧̦̣̱͖̘̫̤̣̮͖̳̓̀̽̈́̏̍́̒͒̀̂̓͐̀̒̍͋ ̶̢̜͈͈̬͉̠̤̃̇̄͌̍̒̋̇̀́̇ͅḛ̵̡͔̝͎̮͎̰̳̞̹̻̫̫̈̿͜ͅx̸̧̢̞̫̥̲͎̼̪̜̗̤̬̘͓̼͕̙̒ͅp̶̧̝̭̯̾͛̑̄̈̕e̷͕͇̥̘͑͌̓̚c̷̛͉̤̼̩̞̍̋͐̋̆͐͆̀̓͂͐͋̑̔̅̾̉̓͝t̶̡̝͕̼͓̖̬̝̤̩̜̠̖̲̺̱̓̽̐̈́́̑́̔̀̓̑̾͠į̷̘̱̯̮̹̤̬̠̘̤̲̅̒̆̍̉́̉̂̆͊͋̽̊͗̉͝ͅn̸̨̨͈̥̻̦̞͙̫͚̟͈̫̱̲̝̣̯͈̓͛̀̏͊̅̊̃͗̍̈́̅͊̄̚͜ģ̵̢̜̤̺͈̠̦̻̲̲̣̋̊̀͑͐̿͑̍͒͆͑̾̋̐́̕ ̷̧̞̊̋̔͐͆̽̈̎̑̂͂̑̍͗̓̈̕̚y̶̢̧̼̳͎̜͔̘̲͍͍͍̤̣͕̩̅̋̔̅̃ͅͅơ̵̛̟͍̮̲̼̳̐͐̆͊́̏́͆͐͠ủ̸̩̼̺̩͖̣̜̳̪̟̇͜.̶̧̫͚͎̦̣͓̰̠̗̣͊́̀͂̓..

.
.
So, I've been playing around with Stud.io since I downloaded it a little while ago to experiment. Many of you here probably know me best from my artwork, but some of you have been around long enough to remember when I was a semi-regular MOCist.

A few years ago I had to store away my LEGO collection, which is small in its own right. I still have many of my old MOCs, but I was never one to purchase a large amount of new pieces. I was satisfied with what I had done, found myself without a load of regularly available pieces to work with, and ultimately I wanted to focus primarily on my art online.

But I'd be lying if I said it didn't miss MOCing sometimes, and that's why I've been sort of hooked on Stud.io the past few days. I've always shied away from digital MOCing because I felt it would be a stiff and sterile experience compared to physical building. I feel a lot of personality comes out of working with what you have, and the complete and total freedom of infinite amounts of literally every piece imaginable in any color you want just seemed like too much.

But I've learned a lot from becoming an artist, especially about shape language and color theory and character design, and in my absence as a LEGO builder, many, many other MOCist have inspired me with builds more imaginative, detailed, and packed full of character than I could have ever hoped to make.

So I tried my hand. It's not perfect, by any means, and it pales in comparison to the work of the MOCists I'm inspired by, but that fact makes me nostalgic for when I first started.

So, will I be making a glorious return as a MOCist? Probably not, at least not totally. I've always been an artist, and I always will be, and my very best skills reside in the pencil, paper, and digital realm. But it's fun every now and then to do something like this, and even more so now that a lot of amazing people have opened my eyes to the possibilities of building.

If you opened this hidden essay, you really do deserve a cookie:

And another if you read it:
.
.
As always,
Comment and Discuss!