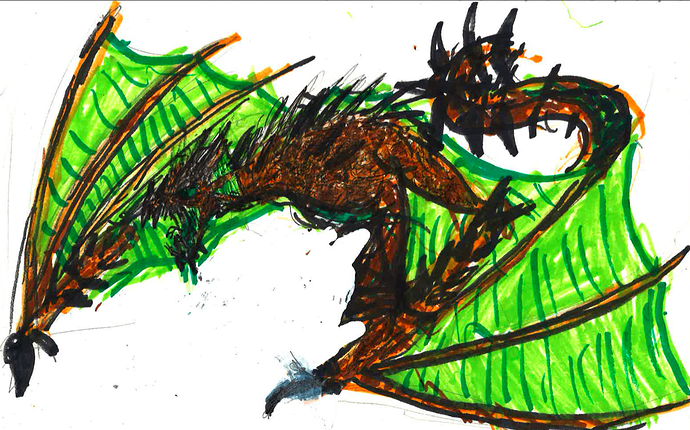 This was my third attempt.
My idea for how dragons work is that they can live indefinitely, some are animal-like, whereas others are capable of speech. Dragons also have the ability to being resembling what they eat (like how flamingos turn pink from a diet of shrimp), meaning a dragon who eats gold alongside his meat may have golden scales, or a sea-faring dragon may have salt-rock scales due to only being able to drink saltwater. Certain dragons, called metallic dragons, instead eat a diet of primarily metal, with flesh as more of a supplement. Although smaller, rust dragons evolved from acid dragons to have breath that instantly corrodes away all metals into nothing but flecks of rust. This allows them to kill metallic dragons much larger than them. Anything exposed by their rust breath is promptly finished by a swing of the dragon's spiked tail. Rust dragons are hyper-aggressive wyverns (animal intelligence) and have become something of an invasive species. Knights cannot stop them, and many kingdoms are trying to find a solution. While some dragons demand tribute from nearby villages, rust dragons attack, consume, and move on. Their hide is not especially resilient, and looks like rust.
Feedback of all kinds is welcome and encouraged.