What? Wizard Bob already defeated the Solekians! Vuharaduramaken the Destroyer of Light and Stuff Like That was defeated and the Hand of Solek destroyed! How can this be? Can I … no, no, I have too many brickfilm projects and homework assignments. This will have to wait.
I like the noble though…
Oh no. Persecutions
i love that dopey look on his face.
Thats the kind of face that says: "i know everyone hates me, and i'm happy for it"
Thou that does make one wonder if Solek is actually nurturing himself on people's hatred of him.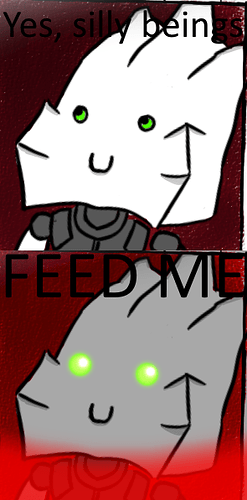 edit: By the way, Solek has a similar name as an energy source from the Cubix cartoon. It's called Solex.
Before Mods lock this topic like the crown Jewels of england:
This Comic makes no sense.
Congrats, your Solek looks 400% better than the actual set.
Ha, I love how the akaku has eyeballs in each scope.
Good art, by the way.

Good thing kopoka will never have to wear that thing since he can't become a turaga