I decided to try my hand at this contest and learn how to use Stud.io. However, moving on with custom piece uploading has become a hassle- that I will ask kindly if someone can help try to figure out this issue.
I have gone through the official tutorials, and the files I've produced in the process would imply that I properly loaded the piece through Part Designer. However, when I try to select the piece it remains as a blank loading symbol.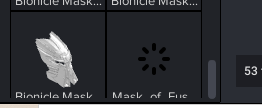 I have been waiting for over 2 hours now in case it was just my computer being slow, but it doesn't look like that is the case here. I've also noticed that this issue occurs with the official 9x9 circular saw with axel hole part as well.
If anyone knows how this could be fixed, I would be ever grateful. Thank you in advance.