The Super Sentai Series (スーパー戦隊シリーズ Sūpā Sentai Shirīzu?) is the name given to the long running Japanese "superhero team" genre of shows produced by Toei and Bandai and aired by TV Asahi, that is used as the basis for Power Rangers. ("Super" refers to their use of mecha, and "sentai" is the Japanese word for "task force" or, literally, "fighting squadron" and was also a term used for Japanese squadrons in World War II.) The shows are of the '"tokusatsu" genre, featuring live action characters and colorful special effects, and are aimed mainly at families. This series is one of the most prominent tokusatsu productions in Japan, alongside the Ultra Series, the Kamen Rider Series, and the Metal Hero Series.
Power Rangers is a long-running American entertainment and merchandising franchise built around a live action children's television series featuring teams of costumed heroes. Produced first by Saban Entertainment, later by BVS Entertainment, and currently by SCG Power Rangers LLC, the television series takes much of its footage from the Japanese tokusatsu Super Sentai, produced by Toei Company. Its first entry, Mighty Morphin Power Rangers, debuted on August 28, 1993, and helped launch the Fox Kids programming block of the 1990s, during which it catapulted into popular culture along with a line of action figures and other toys by Bandai.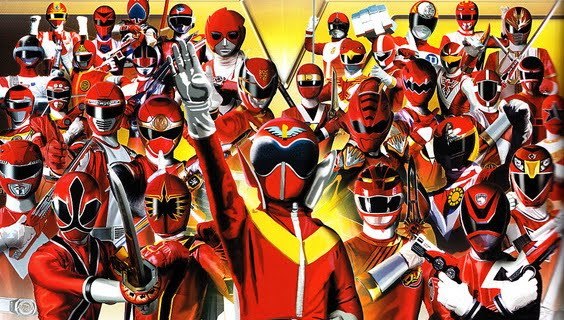 Now, go and discuss!