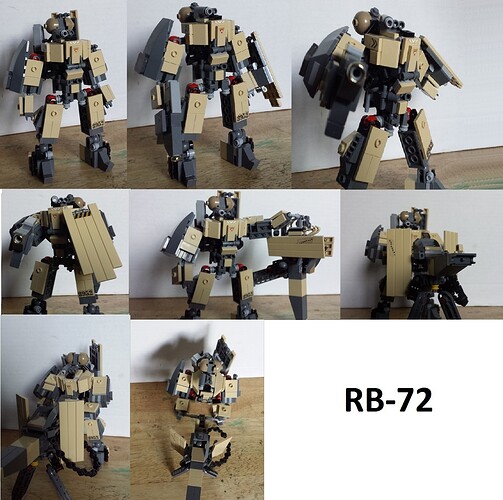 For juneBOT over on flickr.
Seperate pictures: https://www.flickr.com/photos/129742974@N03/sets/72157651647510094
First time doing a collage,by the way.
Looks pretty solid. Like the color scheme. Good job man!
some nice robot. I've recently been watching Super robot Anime and reading mecha manga, and I gotta say these mechs look good
@xX_TChalla_Xx
@JMP
Thanks!
so, I like this,
but,
the legs feel too limited, honestly I would just replace the legs with tracks or some sort of hover mechanism, as the side detailing on the legs is good.
basically, it suffers from RLMS or Recent LEGO Mech Syndrome.
I like it, it has a unified aesthetic and could easily fit into any mech anime/videogame/whatever. I'd also say that it could be worth a buy, if it were an actual set.
@Payinku Yeah,i was starting to run low on parts when it came to the legs,but thanks!
Thanks also @Kiixaar
This MOC would be great, but the lack of knees and elbows cripples it (literally). The red balljoints are annoying too. This is still your best work.
[quote="Calvatron, post:8, topic:9352"]
This is still your best work.
[/quote]AH
ooh.
Thanks.
Did that come across as an insult? If so, I apologize.
No,no. it didn't.
I just have a weird way of expressing myself