Tahu: https://www.flickr.com/photos/129742974@N03/sets/72157658299763856
Jala: https://www.flickr.com/photos/129742974@N03/sets/72157657951791780
NUVA BEEEEEEEEEEEEEEEEEWWWWWWWWWWWWWWBS! 0/CHEESE
/s
Pretty cool, like the way you got across the feel of the original nuva chest plate. Only critiques I have are to maybe swap the silver to the upper arms, and Jala is awesome!
Tahu seems really odd…
But I LOVE Jal-
Wait just noticed the arms. I don't like the arms.
That's alwesome!
Jala looks perfect! Tahu's shoulders are kind of narrow, and with the placement of the Nuva shoulder armor, he looks a bit too feminine. Try flipping the upper arm add-ons upside down to bulk up the shoulders a little.
Love these.
Tahu
-No swords?
-Needs better shoulder armor
-Everything else is great
Jala
-Hunchback?
-Feet are cool
-Don't like the arms
TOHUNGA M8888
[quote="Toa_BionicleFactory, post:6, topic:13141"]
Try flipping the upper arm add-ons upside down
[/quote]Yeah,i did that at first,but it looked gappy
Thanks all!
These look pretty great. Although…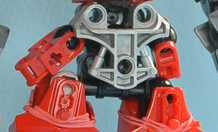 Why does he have hands on his waist?

Maybe try using the bulbous pieces from Breakout. Splitface is pretty much the only one who came with those in red, so if you don't have him, then you probably don't have any of those unless you got them from Bricklink.
When I first saw Tahu, I thought "What? Nuva breasts? Plz No."
Then I saw context.
midget and angry man
9/10
I rate 0/9 because no Takuaaaaaaaaaaa…
…but being serious have a turtle
…
get jango fett
use his shoulders on tahu
???
10/10
These are amazingly well done. Good job.

I just really like these.
That'd be awesome.