Hello There!
I heard word about this contest going on and I was interested in this secondary part of the contest, so I figured why not give it a shot?
So I decided to go with a simple but straightforward conception overall in design. Considering she's the first Toa in existence I thought It'd make sense to add just a wee bit of "jank" to her silhouette and details. Not enough to be over-bearing but enough to get the point across. And considering the physical set design that won the first part of the contest successfully shows this off for the most part, the only real change I added to her was in making her torso area similar to that of the Toa Mata (mainly the upper part of the body).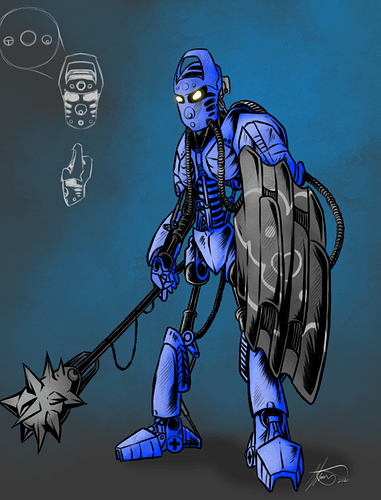 When it comes to her mask, the mask of psychometry, I had the thought process of "what if this mask was made in 2001 but was able to blend a combination of simple with intricacy?"
So I made her mask with that in mind. her mask has vent holes like you'd see on the early masks, but it also has an arch-like top and Matoran language on the mask's forehead that simply says "TOA".
So there you have it. I hope you guys like it!