This would have been my entry to the Makuta contest, but after attempting to reach the site for over half an hour before the deadline to submit it, and not having any success at all, this ultimately just ended up a huge-waste-of-time-that-kinda-looks-alright.
This my interpretation of the form Makuta takes after first putting on the Mask of Ultimate Power.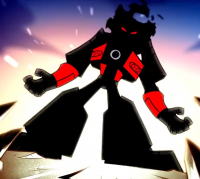 He's called 'The Omnipotent Overlord' because There just weren't enough Makutas with that title.
/s
And because he's omnipotent, I thought that was the dealio with the Mask of Ultimate Power anyway?
The large ring on his back was originally just an ornamental disc, but after looking at some MOCs that did "big round backpacks" better than I do, I took a bit of inspiration from a few, especially @Shadowgear6335's Migrator.
The ring now serves as a means of harnessing and stabilizing the once-uncontrollable and immense power of the mask, and Makuta can use it to channel each element individually.
Here you can see my version of the MoUP and the disc-thing in all its overly-simplified elemental glory!
Pro tip! if you export the model you work on in LDD to a separate file after every "session", you can keep 'backups' and take cool shots showing exactly how the MOC progressed at each stage.

I'm going to try to stay optimistic about this thing even though I feel kinda salty and really bummed about how I wasn't able to enter in the contest.
Good luck to anybody who did enter!
Thanks for your time!