I'm not actually sure if this will warrant its own topic- if not, you can move this post accordingly
Ever since the confirmation of there being an Earth Tribe I've been thinking about what defines the various rock based elements in Bionicle, specifically in Spherus Magna(as it's the most convoluted). See, we end up with a issue of what qualifies which element, and with not one, not two, not three, but four different groups that could claim power over the same clump of… ground, it becomes difficult to see what powers these elements could exclude from each other.
To elaborate, there are the following elemental tribes on Spherus Magna; Earth, Rock, Sand, and Iron. Greg's go-to response when questioned about what separates Earth and Rock is along the lines of the often disputed Earth and Stone of the MU- Stone is rocks and solid objects, Earth is more like dirt and organic matter in the ground.
This, however, becomes especially problematic when we introduce a Sand element. If Earth is most like soil and the bigger chunks of rock that are carried along with it(it's presumable that those bigger chunks aren't actually under the earth elemental's control so much as just being carried by the material). What would happen if they were to face off against both a Rock and a Sand elemental? If the Earth elemental were to lift up a clump of their element, the Rock guy would remove the bigger chunks, and as you can see in the chart below and the Sand guy would strip the remaining material of its sand(assuming Spherus Magna has a similar soil composition to earth's).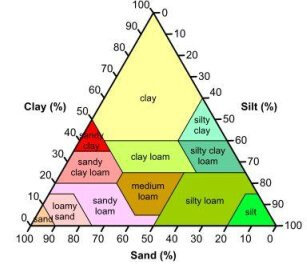 What would the earth guy be throwing? Silt and clay? That doesn't seem like a terribly effective element.
And before you suggest it, there's no component of gravity in Earth, at least according to Greg.
It's not just earth that gets severely stripped down, either. Add Iron to the list; Rock elementals are now excluded from not only being unable to control stone below a certain(undefined, might I add) size, but they also can't control stones with a high enough iron content. They'd be left with a very niche power set in a fight against Sand and Iron elementals.
It's also questionable whether this rule would apply to sand- We don't know whether the Sand elemental would gain control because the particle size is small enough, or the Iron elemental would take precedence for iron content. Generally speaking, iron content in sand is pretty minimal so we could hazard to say that sand would take precedence… But that's still just guessing.
So uh, anyone have ideas to resolve this problem?