Yes, a full on update to these heroes, with better pictures. Lo and behold, the Toa Team me and my brother @ToaKylerak developed. Enjoy!
---
Kylerak, the Toa of Fire, is the leader of this team of Toa, being lawful and noble in his leadership but also not as forgiving. He wears a great Kanohi Lekma, the Mask of Resurgence. It allows it's bearer to quickly recover energy from wounds, keeping them in a fight when knocked down. The only downside is that the pain is still there.
He also wields a great Fire Staff, which can fire projectiles of fire bolts at enemies and engage in polearm combat if needed. It is a symbol of status among Toa to have staffs, and his and other members of the group were granted theirs because of honoring Makuta Tagah.

Collerak
, Toa of Air, is the deputy of the Toa Karhi, and for good reason. He is perhaps the most skilled fighter of the group. He is also the most hopeful and courageous, always seeing a positive in helpless situations and acting upon them.
He wear a Great Kanohi Kualsi, the Mask of Quick Travel. In his hand he bears a Great Air Staff, which allows him to control winds and fire pulses of air at enemies to knock them down with hurricane-like force.
Viatra, Toa of Water, is not as tolerant as most heroes of her element. She is pessimistic and unwilling to get into bad situations. But what she lacks in bravery and tact, she makes up with a sense of unity and friendliness. She is compromising even when fearful, and will follow good leadership and even inspire others to do the same.
Viatra wears a Great Huna, the Mask of Invisibility, and uses a Great Water Staff. With it she can control the waves as well as blast people with water.
Mikeku, Toa of Stone, is clumsy. He tumbles great statues and has a hard time watching his footing. That does not stop him, however. He is an improviser and someone who practices, and thinks he can get better at his skill.
Mikeku wears a Great Kanohi Matatu, the Mask of Telekinesis, which he uses in order to clear many a path for himself! He also uses a Great Stone Staff, a capable weapon that smashes stone and controls it for his bidding. It's also a great blunt weapon, so be wary!
Nuhi, the cold Toa of Ice, thinks for himself more than the team. When something does not go his way, he makes absolutely certain it does, no matter the cost. He finds the Three Virtues rather shaky and prefers to live by rational thought. He disregards wisdom for his knowledge, and it is his greatest downfall. Regardless, he still has value on the team, questioning the actions and motives of his teammates and having them second guessing dangerous desicions.
This Toa of Ice wears a modified Kanohi Pakari, the Mask of Strength. Nuhi lost his original Toa tool when his right hand was cut off. Now he uses a Great Icicle Blade as his primary weapon attached to his missing limb. It allows control over ice, as well as being sharp enough to cut through even the most solid ice.
Quiller is the Toa of Earth and loves it. He does not view himself as just a protector of the Matoran, he also views himself as one still. He has fantastic work ethic and brings fun to his fellow teammates, despite Nuhi or Makuta Tagah's protests. This isn't to say he's irresponsible. Quiller is a bruiser, and will certainly mess up your day if you get on his bad side.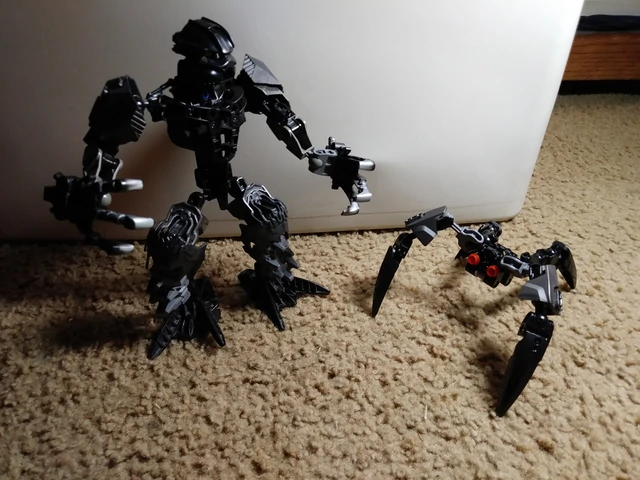 Quiller bears a Great Pokaka, the Mask of Depths. It allows him to breath in habitats with extremely little air, or none at all. As such, even when absorbed in a vacuum, he can persist. He also carries two Protosteel Claws, which he uses as a digging tool and weapons. Another note is his Rahi friend, whom he named "Dig", is a bug that sticks onto his back and acts like a scout when off of him.
---
Well, that's all of them! Tell me what you guys think, and give comments and critiques!