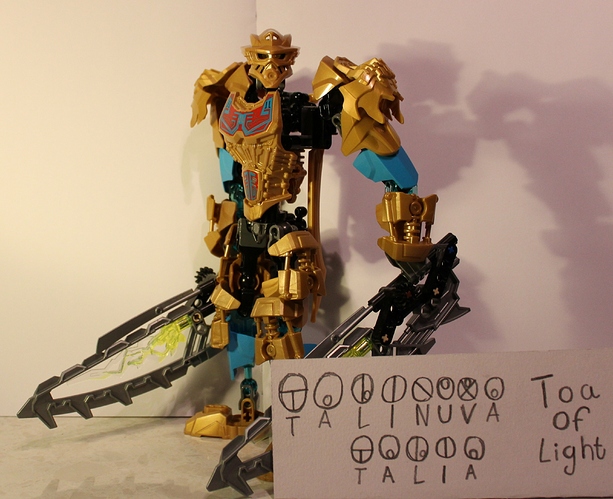 Here is my AU version of a classic Bionicle character with an added twist to them. This is of course the Toa of light, Takanuva! But in this universe our Toa is named Talinuva and she is not a he. Talinuva is the female counterpart of Takanuva in my Bionicle AU.
She is G2 built and inspired so she uses the CCBS system. She consists of parts from Gali 2015, Tahu 2015 & 2016 and Ekimu 2015. She uses Gali's golden Mask to give of the feminine appears and keep some of the Takanuva vibe to her, and she uses Gali's silver hands, eye stock, blue armor pieces and blue bone pieces. From both Tahu she uses their golden armor add ons and pieces, and Tahu 2016's golden chest and body armor. She also uses 2016's Tahu's golden feet and golden shoulder armor add one. From Ekimu she uses some extra gold so she looks more gold then blue.
Talinuva uses both gear systems, so she got a waist swivel and she got the gear box in her arms, both from the two Tahu's. She uses a mix of both Tahu's weapons. She has his two small golden swords on her back and she has two giant swords with two smaller blades behind the two giant swords.
She is apart of my alternative Bionicle universe that combines ideas, scenarios, characters and aspects of Generation 1 and 2 in it. I am currently working on this universe so as time goes on i will try to add more and more of my own ideas, changes and characters in it. As of right now when I post this, which is January 2nd 2017, I will start to work on a story soon which I will upload on here when its eventually done. I will also be posting some more Mocs later on that belong to this universe. I will also be posting bios for them so people can understand who they are and such.
What do you guys think about my moc Talinuva here? I am willing to listen to criticism about her and the gender twist. (This is my first post here so I am still very new to this site and the rules)