behold
one of the greatest, most ridiculous dubs I have ever heard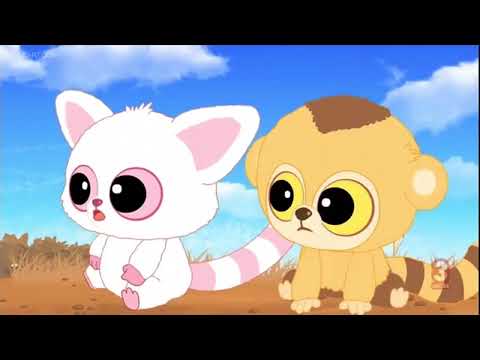 Some background information (it's long, but I think it's worth a read)

Back in 2009, the South Korean company Aurora World produced their own TV show to coincide with the release of their YooHoo and Friends line of plush toys. The series went without an English dub for several years, as Aurora couldn't figure out how to market it to western audiences. In 2012, it somehow ended up getting handed over to David Feiss of all people, who's probably best known as the creator of Cow and Chicken.

The source material itself is a fairly mundane, saccharine thing for very young children, which was not at all Feiss' style. Since Aurora didn't really seem to care what he did to the original show as long as it could be marketed to westerners, he was allowed pretty much free reign over every aspect of the show, which is where this beautiful, beautiful dub comes from.

The dub is not at all an accurate translation of the source material, in fact I'm pretty sure Feiss didn't even translate the original to begin with. The storyline and several character names are completely butchered, along with any semblance of the original's educational value. Most characters are now dumb as bricks, extremely hammy or excessively cynical, and the fourth wall is absolutely destroyed on multiple occasions. Feiss even removed four minutes of animation from every episode and had it replaced with four minutes of brand new animation - you can always tell where the new animation is as it's drawn in Feiss' own animation style rather than the very cheap flash animation of the original.

Aurora World actually got really angry at what Feiss had done to the series, and not only denounced it, but then re-dubbed the entire series themselves, with a proper English translation of the original show.

The 2012 dub has subsequently, and unfortunately, become very hard to find, and was previously lost media. All the episodes were once available on the ABC3 site, but they expired years and years ago. From there it was discovered that low quality TV rips of all the episodes had been posted to Kametsu by Shaggy4457, but the links were soon taken down. Someone contacted Shaggy asking if they still had the recordings, which they did, and consequently Shaggy uploaded the entire dub to YouTube in 2016. Shaggy's account was later terminated and the it was thought that the original TV rips were lost for good. Kisscartoon would later upload archived copies of Shaggy's rips to their site, but these came with watermarks and seven of the episodes suffered from glitches that resulted in the image freezing for a few seconds followed by the audio becoming very badly desynced with the actual picture. Eventually someone found that they had all but one of Shaggy's original rips saved to their Google photos, which were later posted to MEGA, though these were also taken down. As of now, the watermarkless episodes can be found here: YooHoo & Friends (2012 Gag Dub) (Watermarkless) : Toonzone Studios : Free Download, Borrow, and Streaming : Internet Archive

There is still one watermarkless episode missing (episode 35), and due to the low quality of Shaggy's original TV rips the highest quality you can find the show in is 360p. I hope it'll be released in high quality someday, because in my opinion it's far superior to the original show and definitely deserves a watch if looking for something that doesn't take itself seriously in any way whatsoever. It's like a family-friendly version of the infamous Ghost Stories dub.