I Theorise that muaka, kane ra, Tarakava and the wolfrat from the legend of Mata Nui game are related as they share 2 powerful front limbs and a wheel/tracked back limb.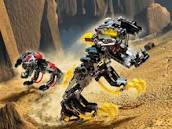 My theory is that the Tarakava spread from the original hypothetical Rahi and adapted to live in shallow waters in Ga-Wahi using its arms to hit Ga-Matoran boats and other Rahi fish and then the original hypothetical Rahi spread into the three muaka, kane ra,and the wolfrat to live on the land. the three muaka, kane ra,and the wolfrat are more similar than the tarakava as they share a neck action feature that might have helped them adapt to the environment that is the Po/Ko wahi region.
Does anyone else see the similarities?
If anyone has any other Theorys on Rahi please comment them below.