Feel free to change this topic's category if it's in the wrong one.
This is, perhaps, my oldest LEGO-related theory, cooked up long before the rise of BIONICLE's reputation and the expectation set in what LEGO was required to deliver, based on nothing more than the content of sets and, more specifically, the design of certain minifigures.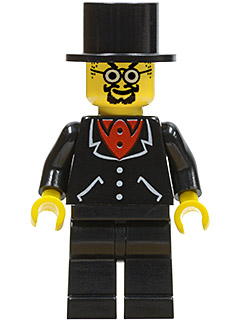 This here is Lord Sam Sinister, the original oppugnant of LEGO's Adventurers theme, who battled the do-gooder archeologists as they explored fictional ruins of ancient Egypt and unearthed the deadly secrets entombed in long-forgotten and rather colorful pyramids scattered across the desert.
And this here is the barbaric Baron Von Barron, the right-handed right-hand man of Lord Sam Sinister and a skilled pilot, never seen without his malicious moustache and magnificent monocle. Take a good look at these two faces because you'll see one of them again very soon.
These two dastardly fiends were dueled over the sands of Egypt in cars, planes, and balloons, trying to outrun the heroic team of explorers and reach the inside of the largest pyramid ahead of them to claim its treasure as their own. However, since Johnny Thunder and his friends moved on to other adventures, it is safe to assume they bested the baddies and obtained the treasure.
The Adventurers' journeys took them to the depths of the Amazon jungle, to locate a forgotten city and stop the theft of its greatest treasure by the greedy Señor Palomar. Then they once again butted heads against Baron von Barron as he attempted to steal living Dinosaurs from a previously unheard of island, going so far as to have an entire set formed around the action of him stealing a baby T-Rex (what a villain!).
After that, the theme took a bit of a break, disappearing off store shelves and leaving most people assuming it was gone for good, until the sudden return of the theme in 2003 with a one-year release of a plethora of new sets and daring adventures to partake in, all of which pitted the party against the return of Lord Sam Sinister, and…
…here is where the theory begins. Take a look at this image of Lord Sam Sinister from 2003.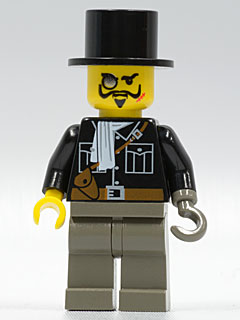 Something seem familiar? Could it be that this man, this minifigure, wielding a hook on his left hand, a monocle over his right eye, a signature moustache and still vibrantly red cheek scar is not in fact Lord Sam Sinister, but Baron von Barron mooching off his former boss' bank account?
By all means this is Baron von Barron. He's identical in every aspect outside of his attire, but in every set and advertisement in which he appeared during 2003 he was referred to as Lord Sam Sinister and only by that name. So what happened? Did LEGO's designers create a minifig and LEGO's story team just not do their research which would have taken five minutes of flipping through an old catalog?
Possibly, possibly. Or perhaps something more… Sinister.
And that's another lifetime comedy award, thank you thank you
The theory operates like this: Lord Sam Sinister's operation in the sandy seas of Egypt ended rather unfortunately for him, either by his own folly in the ancient tombs or by the diabolical hand of Baron von Barron. After being dogged by Johnny Thunder and his Adventurers during his dinosaur thieving expedition, he faked his death and assumed his old employer's identity to operate in greater Asia, where the Adventurers inevitably ran into him yet again.
What do you think? Did Lord Sam Sinister simply get plasticha surgery? Is there no deep insidious plot involved with the elimination of one of the oldest LEGO villains in history? Do I need to to get a life? Make sure to let me know!