So Mattel recently acquired the master license for halo toys. This mean McFarlane will no long be making their halo figures. Now McFarlane has been slowly losing its quality and care when it comes to halo figures in recent years, with more of the focus on new licenses like the walking dead. It's time for a new handler of the franchises figures, but is Mattel the right company?
Well Mattel has a whole line they announced, with some being better toys than others. But I wanted to focus on a specific set of new lineup, the 6" and 12" figures.
The 6" figures: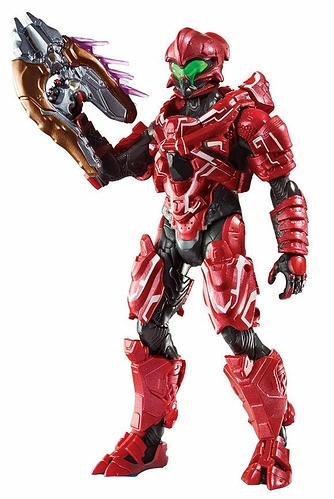 So the 6" figures are much more toy like than real, but they do have their perks. Anyone who has McFarlane figures will say they look pretty game accurate and decently painted for the most part, but the articulation is poorer than dirt. These new figure have at least 30 points of articulation and if you look close at the images provided, you'll see all the fine lines showing these will be much more fun to pose and play. These figures also have exchangeable armor for human figures (sorry elite lovers, you got screwed) and 1 to 2 weapons per figure. The armor customization isn't shown yet but the leg and arms at least will be able to have the armor exchanges as they seem to be clipped on.
The 12" figures:
The 12" figures are not as good. With these figures you only get 15 points of articulation, and unless they change the figures on Masterchief and Locke (Locke not being shown) will not have leg movement besides straight up in down in the hips. But as the figure to the left shows, leg articulation may be in these long and lanky halo dolls. These are basically halos version on Barbie, skinny proportions with limited legs and painting but good enough for the age suggested. And these are for 4 or 5+.
The 6" and better figures are going to be retailing as $20 figures, and the 12" will be retailing as $10 figures. These figures don't have an official release date I could find, but appearently are coming to shelves early 2016, so be looking out for them. Hope this helps everyone know what's coming out for halo fans!
Do you like them? Are they crap? Are you happy or sad? Discuss here!