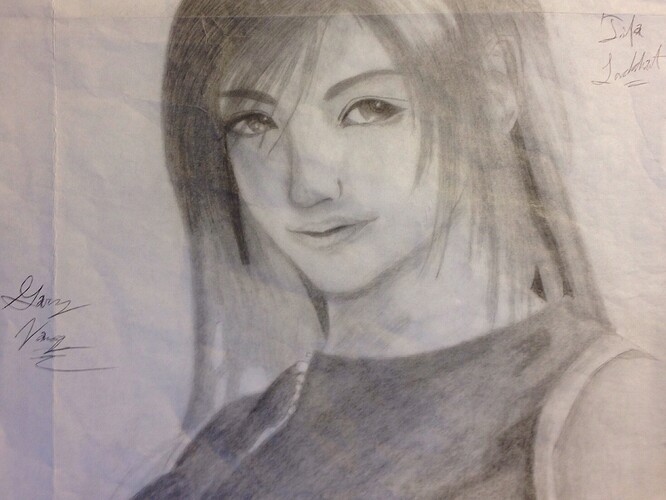 <img src="/uploads/db5640/21332/7e9bd9fa72d642ae.jpg" width="666"

These are drawings of Tifa Lockhart from Final Fantasy 7 and Alisa Bosconovitch from Tekken
These are pretty great.
Do you have a scanner you could use for your drawings?
@Risebell no I don't have scanner. I upload these drawings on iPhone.
@Gyro Tifa is pretty :3
@RECspiriah Thanks! Tifa kicks butt! XD
Explains why I recognized them.
Nice drawings!
Especially Tifa's drawings.
Pretty legit. All I can draw are more cartoony characters, since I strive to be more of a cartoonist.
I only draw technological stuff so if can draw the simplest of faces then your better than me.
Welp, i like drawing but something about first one throws me off ;w;
Amazing hair
And face
And and stuff
And shading (on hands and face-part)
But! (There are always butts) flower on tekken gurl (Alisa = Lilly?) Looks like its out of Centymeter plastic ;w;
I clicked on the topic expecting sexually glorified females, Gets realistic looking females. Good job.
I can barely draw a face, but you, just amazing top tier stuff here…
Holy crap. These are amazing!