Hi! Similarly to @AIDY_the_BOOKLE and @Ragdoll's recent posts, I created a piece of concept art for one of the Toa Mata in mini figure form (By the way, you should check @AIDY_the_BOOKLE's concept art here:http://board.ttvchannel.com/t/custom-lewa-minifig-drawing/33554 and @Ragdoll's here: http://board.ttvchannel.com/t/tahu-minifigure-brickonicle-concept-art/33707 . For this one I was originally going to do Kopaka, but I changed my mind and ended up drawing: Onua!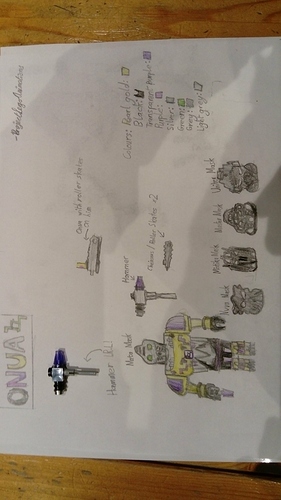 Here it is! Sorry if the image appears sideways - I had some… difficulties. If you want to see it properly you can download it and look in the download where it appears normally.
Anyways, The mini figure uses the same mini figure body as Axl from Nexo Knights. Also all the masks that we have seen Onua wear in G1 & G2 can be put onto this figure. His weapons are the two chainsaws / roller skates that he had in his Nuva form which also have a stud on the top - allowing him to put them on his feet, and a hammer which is slightly similar to the one he wields in his Uniter form. I actually built this hammer in real life and it is in the top right corner of the image.
Anyway, please let me know what you think of this, and that's it!
-PLA