No.
He wasn't in this show.
Wow, I must look like an idiot, please forgive me. The only one I have watched is from the 80's.
Nah, it's okay dude.
It's common to find people of which haven't seen that many series.

I must say, I thought Danny Kaye could voice a mean Megatron, he does a pretty good Optimus Prime too.
I didnt like it to be honest.
So I've been rewatching TF:A lately, and am currently around halfway through the second season. There's something about Optimus's face that makes me dislike it. I think it's the skin color.
At any rate, my favorite characters have been Bulkhead and Prowl for the Autobots, Blitzwing and Lugnut for the Decepticons, and Captain Fanzone for the humans.
Prowl for the win!

This topic isn't getting enough attention.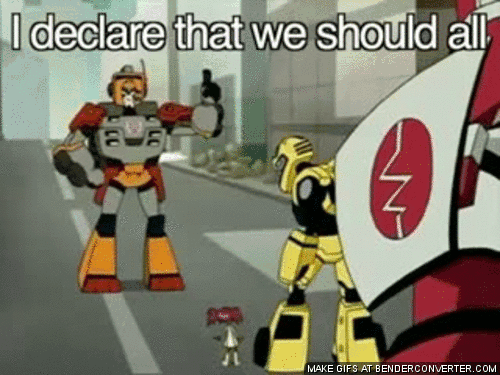 Lemme just revive this thread real quick…
Animated is my second favorite Transformers cartoon, formerly my top favorite before Prime took it's place on the totem pole. I liked how well it blended childish, lighthearted humor with some more serious and mature moments. One episode the main villain could be a little girl riding a robot unicorn, and in the next a Decepticon spy could throw someone into a trash compactor and attempt to assassinate Ultra Magnus. It was a great show for fans of all ages, and the various references to other Transformers media meant that there was something for every subgroup in the fandom to enjoy.
It's shame season four never happened.
Come to think if it, you know how at the end Prowl summoned all of the allspark fragments, including the one in Starscream's head, thus killing him. But wouldn't that mean that all the other fragment bots like the constructicons and Wreck Gar also be dead?
Yes, someone made a topic for this! Animated is one of my top lines for Transformers. It was one of the first TV shows that as a child I watched every episode of. And the toyline was soooo good. In fact, when I was at TFCon Chicago this year, I purchased one of my holy grails from this line: Animated Jetfire and Jetstorm.
watching animated rn, starting the second season
i'd call it a top 10 anime tbh
also sentinel prime is a silly nerd
Started Animated
It's weird to hear Optimus with not a deep leader, like G1 or Prime
Also Bumblebee's voice is annoying as all heck.
I believe it's still the time before they could rehire mr Cullen back
still it matches how he's just an average joe with a high rank rather than the wise leader of half of his race
doesn't change the fact that sentinel is a bully
but that's like a Multiversal norm
unless it's like SG, why couldn't we get Animated SG?
Yeah, Optimus is fitting.
But Bumblebee is still super annoying…
We did. Look it up on the TF Wiki.
Can't really help you get used to him being a chatty kid appeal character
what about the others?[quote="MaximusPrimal, post:41, topic:12851, full:true"]
We did. Look it up on the TF Wiki.
[/quote]
I know, I just wish it were in an episode or something
Rest of them are fine. I'm only on episode 5 though, so I'm waiting for the action to really start up.