Some time ago I started a moc based solely around a single pieces: The Dragon Bolt head. My goal was to use such a piece as torso armor, something which I hadn't seen done yet, at least not on a typical toa-like moc. Last December I finally finished that moc. (2017 was a slow year for me, next to no motivation to build).
I present Vlora, The Lancer.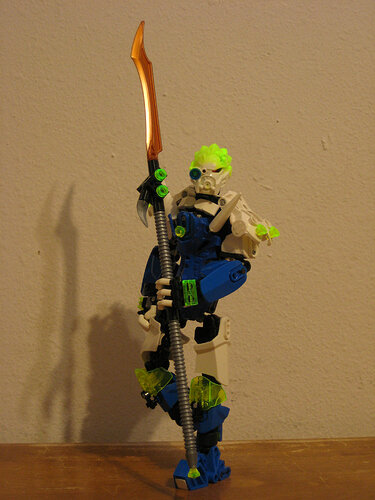 With Vlora, I wanted to make a Vo-Toa, as I've always loved their color scheme, however I also added the Trans-Lime Green as a tribute to Surge, my favorite character from HF. I will always associate TLG as a tertiary color to the canon Lighting color scheme, as the way it so easily catches light feels like mocs with that color are brimming with power.
Vlora is my first attempt at a custom torso of my own design. Many of my other mocs build off of torso designs that have been shared among the community, however my use of the Dragon Bolt piece meant I needed to come up with my own design. In the future I'd like to improve upon it, but for right now I'm content.
The hands are the typical mixel design, however the use of minifig limbs for the fingers are heavily inspired by Bobthedoctor's frequent use of them. (Many stormtroopers gave their limbs for this moc).
As for Vlora's glaive, my reasoning behind the copper blade piece is quite simple. Copper's an excellent conductor of electricity, second only to silver. Think it makes sense for a Vo-toa to use copper or copper infused weapons.
Short Background:
A Vo-Toa formerly in service to the Hand of Artakha, Vlora now travels the southern isles of the MU, striking down evil from atop her hoverboard.
Vlora is well known amongst certain groups for her signature Lightning Spear combo. Charging her Glaive with pure electricity, the Vo-Toa is able to send it flying at her opponents from afar, only to then utilize her Mask of Rebounding to have it return with ease.
-----------
So yeah, that's about it. set out with an idea in mind, and I saw it to completion. Let me know what ya think.
Some wip pictures of Vlora.


I will eventually make her a custom cloak, as she looked good with it, but it limited her poseability a lot.