Hello again, Greg!
BS01, Fusions#Artificial_Fusions:
"Mutated combinations of Underwater Rays and Takea - The Barraki used these creatures."
BS01, Rahi/Unnamed Rahi#Experiments/Mutations:
"Mutated Fusions of Takea and rays used by the Barraki.[CTM]"
(CTM = Command The Toa Mahri - The Final Challange)
These were depicted in the 2007 Playsets: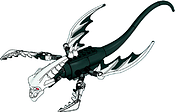 What caused these fusions? Were they fused before they got onto Aqua Magna, or did the Pit Mutagen fuse them?
Are the involved rays Rahi or SM Creatures? (We have only seen underwater rays that are creatures native to Aqua Magna)
When Mata Nui cured the Pit Mutagen, would he have undone the fusions?