as the title says, this topic is about the Harry Potter games.
and i would personaly make it clear that my favorite Harry Potter game is Harry Potter and the sorcerer's stone for PC.
Now i do also have the Chamber of Secrets game for pc too, but a problem i have with it is that one need a instalation code for it to be instaled for one's computer… which one can only find in the instruction manual… which i no longer can find. Its the same problem i had with Bionicle the game, i could no longer play or instal it on any computers because i did not have the instruction manual with the code to instal the game anymore. But anyway.
the main reason for why i love Harry Potter and the Sorcerer's stone is because of the music for one, which if you all lisen to this, you would understand why:
https://www.youtube.com/watch?v=_L78WkuKcT0
the second reason is because… well i have nostalgic memories of the game, true the graphics are not so great as they where then at the time, but at the same time… when one thing about it, this game is probably among one of the best adaptations, not only does it have elements from the movie, but it also have elements from the books too, like Peeves (in Norway, he goes by the name Gnav) Who if you have read the books, never made an appearance in the movies. Now if some of you are asking, this is what Peeves looked like in the two first games (at least the pc versions)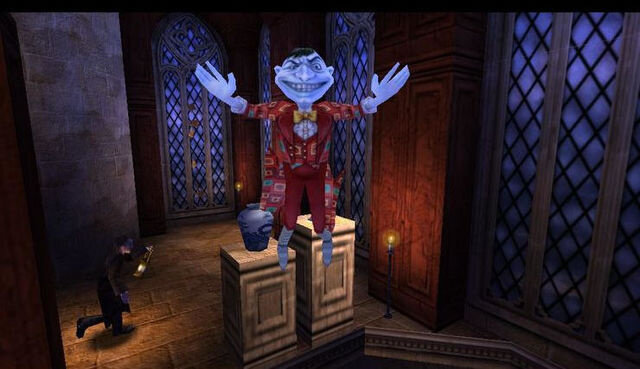 his norwegian voice and taunts have lived in my memories for a really long time.
But that is my favorite Harry Potter game, what is your favorite one?