Yes, the parts i need arrived. It took 60 days.
So I finished my zaria.
Zaria
was forced to kill to Makuta to survive, violating the Toa Code in the process. The event began to haunt him, and also sparked rumors that he had since made a habit of murdering all of his enemies.
The design was basically intended to be on the Inika scale.
In my headcanon… I thought that TYDQ's Toa each have a similar body to Mata, Metru, Inika.
kanohi, I used this. I didn't consider that ability and just chose to fit the design well. I'm satisfied.
Um… I didn't intend it, but because of the shield, he looks like Mystika Onua.
The color of zaria is gunmetal and dark orange… It is the intended color for weapons and rusty iron. toa of iron has a variety of colors, but this color combination is pretty cool.
In particular, the dark orange, which expresses rusty iron, looks like he's not taking care of himself.
gunmetal stood out in the front and dark orange color stood out in the back.
The waist moves well enough with a ball joint, and the neck can move really freely with a two-way ball socket.
shoulder shield also can move freely.
---
As for his tool, I made something a little bold
Gun
To name it, Iron Blaster.
Because it looks more like a weapon than a tool, matorans who saw this might have exaggerated the bad rumors on zaria.
When the trigger is pressed, ammo fired.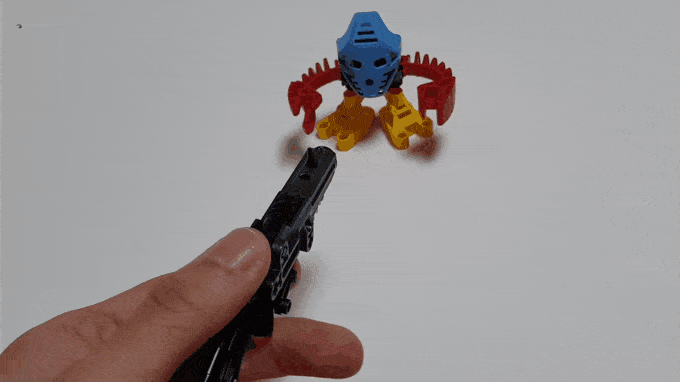 Sorry, Takua.
He didn't talk that much in four chapters of the series.
As a result, I imagined him as a tacit and slightly -badaaaaa- anyway…
With other gun that previous design
Double guns are love.
"Sit down and be quiet,"
Uh… I don't think it was supposed to be this violent scene…
Orde's design, credit to @Bukkey