Hi again,
This is my entry for the Nidhiki Fanon contest hosted by Duckbricks!
---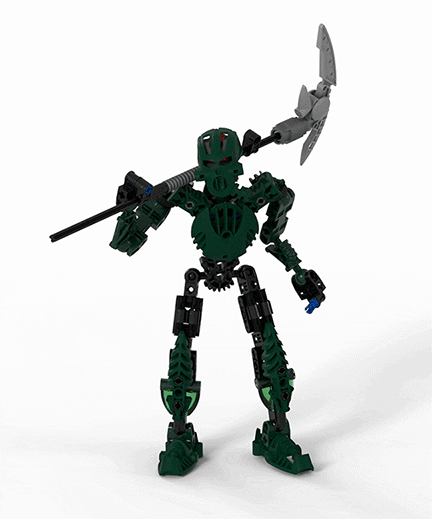 ---
This interpretation is a fairly mathematical approach to Nidhiki, somewhere in between Toa Krakua, Toa Lhikan and his Dark Hunter form. He stays true to the words of Greg Farshtey with a standard green Volitak, green shoulders and a scythe. His resemblance to Krakua ties him back to the Tren Krom peninsula, the previously shared home of the two Toa heroes.
---
To recolor some parts I used Beret Green Enamel by Testors. Only the mask and Gahlok Kal Shield are painted.
I get asked a lot about the Dark Green "Metru-toran limbs". Three of these came in set 7019-1, Viking Fortress against the Fafnir Dragon. They're very much real, and you can buy some here!

---
a Stud.io file can be found here.
Note that it uses models from Biopack and Sidopack. Please install both before using this file.
---
Thanks for looking, and good luck to all in the contest!