I mean, that's what mine ended up looking like.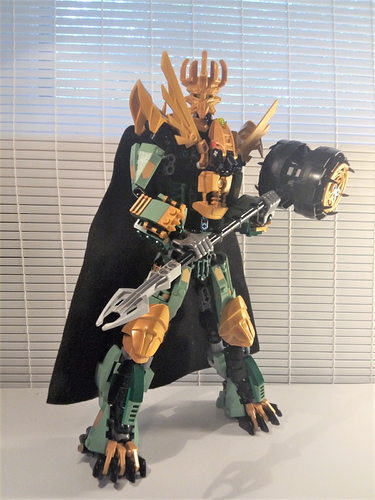 Made this guy all the way back during the Helryx contest. Most of my G1 collection was lost and I'm not in a financial position to go a on bricklink shopping haul, so I had to use whatever pieces I had available. All sand-green pieces came from the green dragon mech. Decided to keep the stickers as their markings could be reinterpreted as Artakha's ancient symbols.
Also wanted Artakha to share some physical traits with Karzahni, but all I got in were some shoulder spikes and piraka leg pieces on his legs. Also wanted horns couldn't figure out how to make that work with the G2 mask.
Front:


Side:


Back:


Scale comparison:


Torso breakdown

Further images, including more breakdown photos down below:
[imgur gallery]