Amazing! All the good designs are making the choice hard!
Ah, finally! I was wondering if you'd make a Helryx. This one definitely has my vote, this is an extremely good interpretation. Especially the shoulders, love that change
This is definitely my favorite entry so far.
I love how it looks like it's from the Miramax movies.
Perhaps, if this wins, you may be granted the ability to name the mask. If so, @Galva_Nize, what name would you propose?
havent thought of one yet, but i doubt that that's gonna be a part of the contest anyways
It's alright, I was just curious. Of course it is not part of the contest, but it may be honored to the winner. I would just like to see the unnamed masks granted names.
yeah it'd definitely be cool
They can't be given names since those woul have to be approved by Lego
Looks awesome. Like something out of a Bionicle Movie. Also really like your mask and the way you added the holes for the tubes looks super clean
Dang, the style really reminds me of the 2001 promos, awesome job!
This mask design has always been my favourite for the character. The full artwork is also very good, definitely in my top few. Although there's something about the render that looks almost… blurry? to the eye.
It might not have been intentional but I also like how the 'back hose' is positioned lower on the back than on the original model, which has a habit of falling out.
The render has a few Post Processing effects applied, so that's probably the "blurriness" you're seeing.
i'm rootin for this one
That's so awesome!
Your mask is definitely one of my favorites, an inspiration for my own in fact!
The render here is really great!
Really like what you did with her back. The detail on this looks great, and I can almost see this in a CGI ad like they used to have.
This is one of my favorite entries and I intend to stick with your mask regardless of the results. It looks good irl and the tubes fit in perfectly. Well done.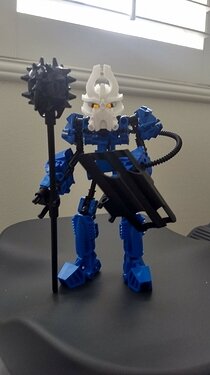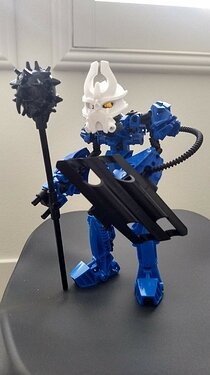 Edit: This is a wip I'm still waiting for the tubes to arrive
The absence of the right arm and leg tubing and lengthening the neck does make this look a lot cleaner and respectable. But I think this 3-D model utilizes a good style that at least makes the original creation's flaws tolerable.