Kyran and Rohan cast a shield over the group, hopefully negating the damage.
Siansa create a large enough portal to cover herself and Healer, sending the fireballs back at the Magician.
Luxatium forms a combat staff of light and primal energy, then shoots energy bursts from it.
"But how?" he asked
Just then, Daemonium's neck began glowing bright orange, as flames shot from his mouth."This is for you Michael!"
"Like this."
Hydronicus grabbed Hydron's arms, and an aura of energy began to surround them. Hydron's armor began to lift off his body, floating in the air as a few other robotic components were removed. They parts began floating around Hydronicus, and started to attach to his body. Wires and other robotic components were inserted into his body, which was then encased in the suit of armor.
With his transformation complete, Hydronicus looked at what remained of the android. It wasn't alive. But the mind of Hydron was now a part of himself.
we, are now one, Hydronicus said in his mind.
---
@Jcton
@meepinater
The Magician saw the deflected fireballs coming towards him, and he manipulated their trajectory to instead hit the wall behind him.
---
@TBT_Emerald
The Magician dodged most of these fireballs, but some managed to hit him. He responded by returning fireball blasts at Luxatium.
---
Michael blocked the fire with his shield, before swinging his sword at Daemonium.
Daemonium blocked the sword with his giant spear, continuing to shoot more flames.
Hydron felt weird as he saw himself pulled out of his own body, but just simply said "I hope this'll really work."
Instead of dodging, luxatium turns intangible. This works pretty well, except his primal shard is launched across the room by a fireball. "Drat." He mutters, shifting quickly in that direction.
@TBT_Emerald
"You cannot escape me like that forever!" The Magician declared to Luxatium.
@Jcton
@meepinater
The Magician hovered into the air and sent a flurry of fireballs towards the way of Æyapel and Rohan.
Rohan rolled away, barely dodging them.
He threw his staff at the Magician.
The Magician laughed as he caught The staff.
"How stupid could you possibly be?!" He exclaimed, as he attempted to use the staff against Rohan himself.
He would suddenly feel a painful electric charge surge through him, and an inability to let go of the staff.
ooc: the staff has a DC electric current.
The Magician wore a look of shock and confusion on his face, as he tried to will his hand to open and release the staff.
"You…!" He growled at Rohan.
Rohan grinned.
"A trick I picked up on Earth."
The Magician, with his other arm, blasted a hellfireball at Rohan in rage.
Rohan laughed and dodged, forming a fist. It began to crackle with blue energy, and when it was charged he threw a punch at the Magician.
Upon impact it would A. send a surge of pain through the Magician's body and B. send him flying back.
The Magician was sent ring from the force of the impact.
@Jcton
The Magicisn then set his sights on Æyapel, flying towards them with flaming claws.
"You seem so sure." Luxatium says. "Unfortunately for you, I'm not here to run away." Luxatium picks up his shard, and rushes at the Magician, trailing both light and primal energy.
He listened to their harmonies, trying to figure out how each could be utilized.
Æyapel looks at the Magician. They focused their own flames, the white flames taking shape of a sword. The Long sword took all the white flame Æyapel had. The being thrusted the sword forward yelling one thing, "WE ARE SEEKER!"
@Jcton
@meepinater
@Tarkur
@TBT_Emerald
The Magician could only widen his eyes in shock as the sword pierced through his chest. There was a bright explosion of light.
When the light faded, the weak and frail form of Amadeus Gregia stood in place of The Magician.
Amadeus looked down at his body, disoriented and in pain. Suddenly, a fiery red aura began rising from around his shoulders and upper back. Then, Amadeus' skin began to rapidly wrinkle.
For all these years he had been immortal, permanently frozen in time during the period he spent being fused with The Magician. But now, all those missed years of time began to catch up with his body.
Amadeus started choking out in fear, as his skin rapdly dried up and dissolved. The rest of his body soon followed, as it crumbled away and revealed a white skeleton. The skeletal form of Amadeus uttered one last wheeze of horror, before it too crumbled apart and disintegrated into dust.
A fiery form then flew up from the remains of Amadeus as they crumbled, and the form began to take on the silhouetted shape of a winged figure.
"Thank you, for freeing me. I can now finally unleash my true power." The Magician said, as his form solidified: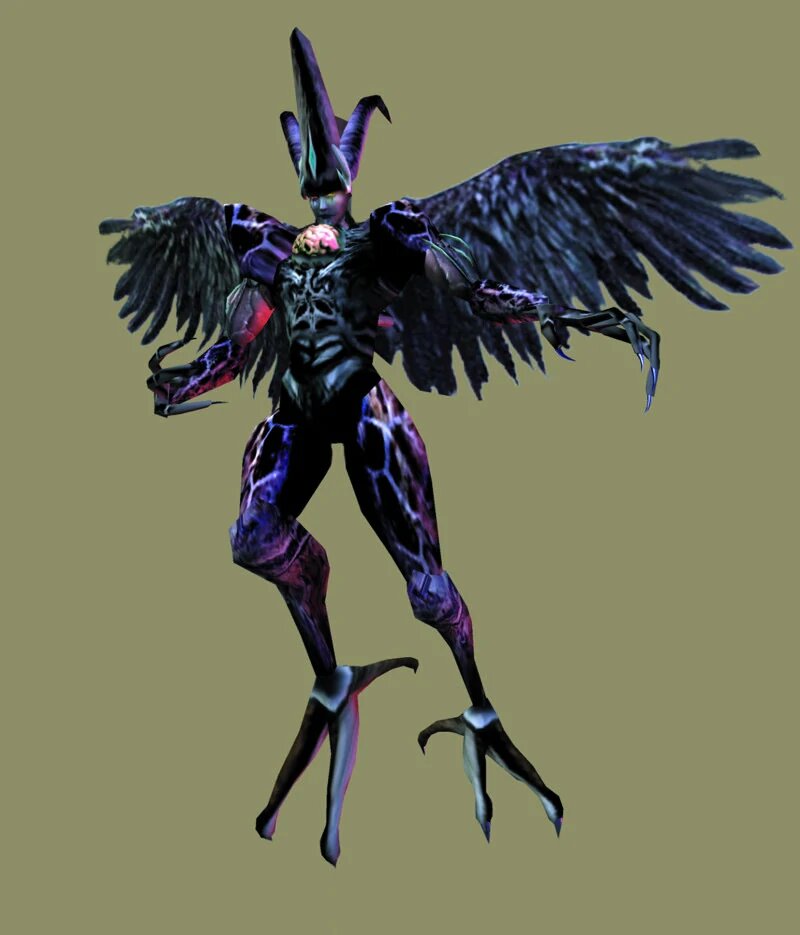 With that, The Magician flew upwards through the shaft of the pit with his great wings, gone before anybody could fully process what had even happened.
@Toa_Radrix
Now, only Daemonium remained to fight the heroes.
Hydronicus unsheathed his sword.
"You shall not escape us so easily!" Hydronicus said to Daemonium, pointing his sword at him.