A while back, I drew up a Takanuva image in the G2 style. After the news of @Cyber-Hand custom Avohkii being developed and seeing the mockup of it, I decided to go full out with it. Currently, I'm waiting on a few bricklink orders, but this will be the basic shape of the figure.
Things to note:
The Gladitorian shingards are meant to simulate the old nuva leg parts from 2002, and concequently will be painted white along with the Knights Kingdom armor (unless the armor is close enough to pearl gold.
The Technic upper arms will hopefully get cleaned up once I have a design I'm happy with
If I go with the skirt, it'll probably have to be a custom design and not the Accessory pack cape due to the amount of fabric I have to work with there.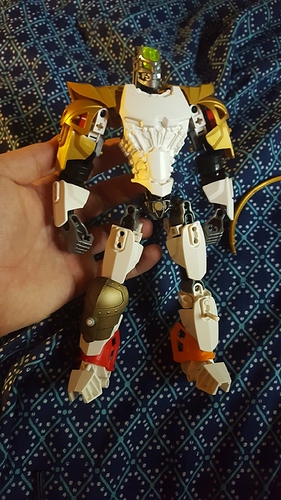 Constructive criticisms are always appreciated.
Here's the original design I made for those curious.