I had a thought recently, and the more I think about it, the more I want it to happen. There's a character that I'm sure many people would find funny to see in G3. However, he doesn't really serve much of a purpose to any story. It's that adorable Swedish walnut, Good Guy.
Now we all know Good Guy is just a promotional set, and is basically a joke set in the mainstream canon. But I believe there's a way to incorporate this little guy into G3 without it being too strange to the G3 canon.
---
In the G3 timeline, Good Guy would live in the region of Mangai. His partial red coloring is the only indicator of this, since he has no backstory in G1. He will go about his day as a common Lava Farmer. However, there's two glaring details about his G1 counterpart that need to be addressed. His name and his appearance.
Name and Personality:
Good Guy has no real name. He is just Good Guy. That doesn't really work for fitting him into the story. After being born, his parents just decide to name him Good Guy?.. not likely.
I began looking through BS01 for possible replacement names, and found one that stood out. Kraatu. For those who don't know, Kraatu was a small rahi with a Kanoka disk launcher for a tail. Like Good Guy, this creature was also a promotional set. In fact, it is the only promotional set not to have "Guy" in the name at all. This makes it a perfect match, using one promo set for another. This also frees up regular Matoran names for more proper characters that may show up in the future.
So Kraatu is a Lava Farmer of Mangai. Unlike his fellow Mangaians, he is not aggressive. He sees little point in needless violence, which is generally a common trait in that region. He can still fight, just like any fire Matoran. However, he prefers to only do it when necessary. Compared to the others, he's doing the morally right thing. He's the "good guy"… and most of the other Matoran sarcastically call him that. It happens frequently enough, that the nickname has basically become his name (sort of like Takua and the name Chronicler).
Note: I will be using the name Kraatu when discussing Good Guy's G3 counterpart, in order to get used to it.
His Appearance and Role in the Story:
Good Guy is probably most famous for his unique appearance. He only has 16 pieces, so he lacks much of what makes other sets… well, sets. But the aspect that is the most prominent is his face. The world of Bionicle is inhabited by beings that require masks to function. Take the mask off, and they grow weak. However, Good Guy was never in the actual story, so he isn't effected by his lack of a mask. In G3, masks no longer have this function. They are just ornamental, with some having certain abilities attributed to them.
In G3, Kraatu has heard of the legends of mask powers. Their people once wore these masks, but at some point, they stopped. It has been centuries since they had the masks, so no one really knows why they lost them to begin with (the previous Toa team hid them away). But as tradition, they wear replicas of those long-gone masks.
That is, everyone except Kraatu. For some reason, he can't shake the feeling that something is off. They wear replica masks, but why? The masks of old had powers inside them. They could probably become better fighters with powers like that. That sounds dangerous. Do they really deserve to wield such a power? Do they even have the capability to wield it? All these thoughts plague his brain. He had discarded his mask years ago.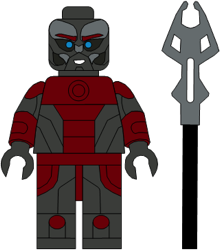 Kraatu with his Lava Farming Staff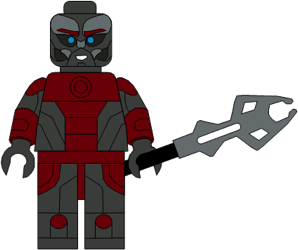 Kraatu holding his staff
The others look at him as if he was a freak. He can often be found going around the village trying to warn people. About masks. About other issues in their society. When someone from another village sees Kraatu for the first time, they would likely be encouraged to just "ignore him and he'll go away, eventually". He was just the village fool, a kook. His ranting didn't matter.
If only he knew how right his gut feelings would become. As the civil war grows, Kraatu feels like he has to do something. He attempts to gather others to his cause of stopping the war. He asks the new Toa for aid, but they are already working towards that goal. He decides to help them behind the scenes. Scouring the island, he searches for anyone who will side with him. He knows he can't convince other regions to stop fighting. Heck, he probably couldn't convince his own people to do it. But if he finds Matoran from each region willing to do the same, then there could be a chance.
Eventually the war ends. The Toa stop Makuta and save the day. It is likely that Kraatu's endeavors were unnoticed and unnecessary. But he tried his best anyway. With the war done, it is to be expected that some sort of group would form. This group would be made of representatives from each region, in order to prevent major problems like this from ever happening again. They may not be united like in G1, but they will at least try to get along better. The representatives would be those who can see the errors of their recent ways and work to fix them. The Matoran that Kraatu managed to convince would be potential candidates for this role. So in a way, his contributions did matter. He did help the island achieve peace.
He really is a Good Guy.
---
The two images were made using TTV's Toa design as a base, then making the Matoran details based on Ven's art. The staff used the Guurahk staff for the general outline.
For a similar pitch about Takua in G3, see Takua's New Role for G3.